Osthoff Resort Christmas Market
#1 Experience a White Christmas Market
The lakeside Osthoff Resort is home to an Old World Christmas Market. Reminiscent of the centuries-old Christkindlesmarkt of Nüremberg, Germany, The Osthoff Resort opens this Old World tradition starting on December 1 through December 10. Stroll the aisles in a grand heated tent bedecked with fresh evergreens, roasted almonds and gifts for everyone in your family.
Instead of flying to Europe, international and regional artisans come to Elkhart Lake. Czech glass blowers bring their beautiful glass ornaments, and colorful Russian nesting dolls and hand-painted Santas add to your holiday decor. There are German hand-carved smokers and nutcrackers plus stained glass art. Select an array of fine apparel, Estonia woolens, and Turkish pashmina scarves and shawls. Handmade amber and silver jewelry, fresh green wreaths, kissing balls and fine chocolates excite the senses.
There is also an Old World Food Court offering delicious German fare, such as hot glühwein, sauerbraten, dumplings, schnitzel, potato pancakes, red cabbage, pulled pork and apple strudel.
Other special holiday activities at the Osthoff Resort include horse-drawn wagon rides, ornament making, cookie decorating, and breakfast with Santa or brunch with St. Nicholas and his reindeer.
For 10 days the market opens from 10 a.m. to 5 p.m. Admission is $7 per adult, children 14 and under are complimentary with an adult ticket holder.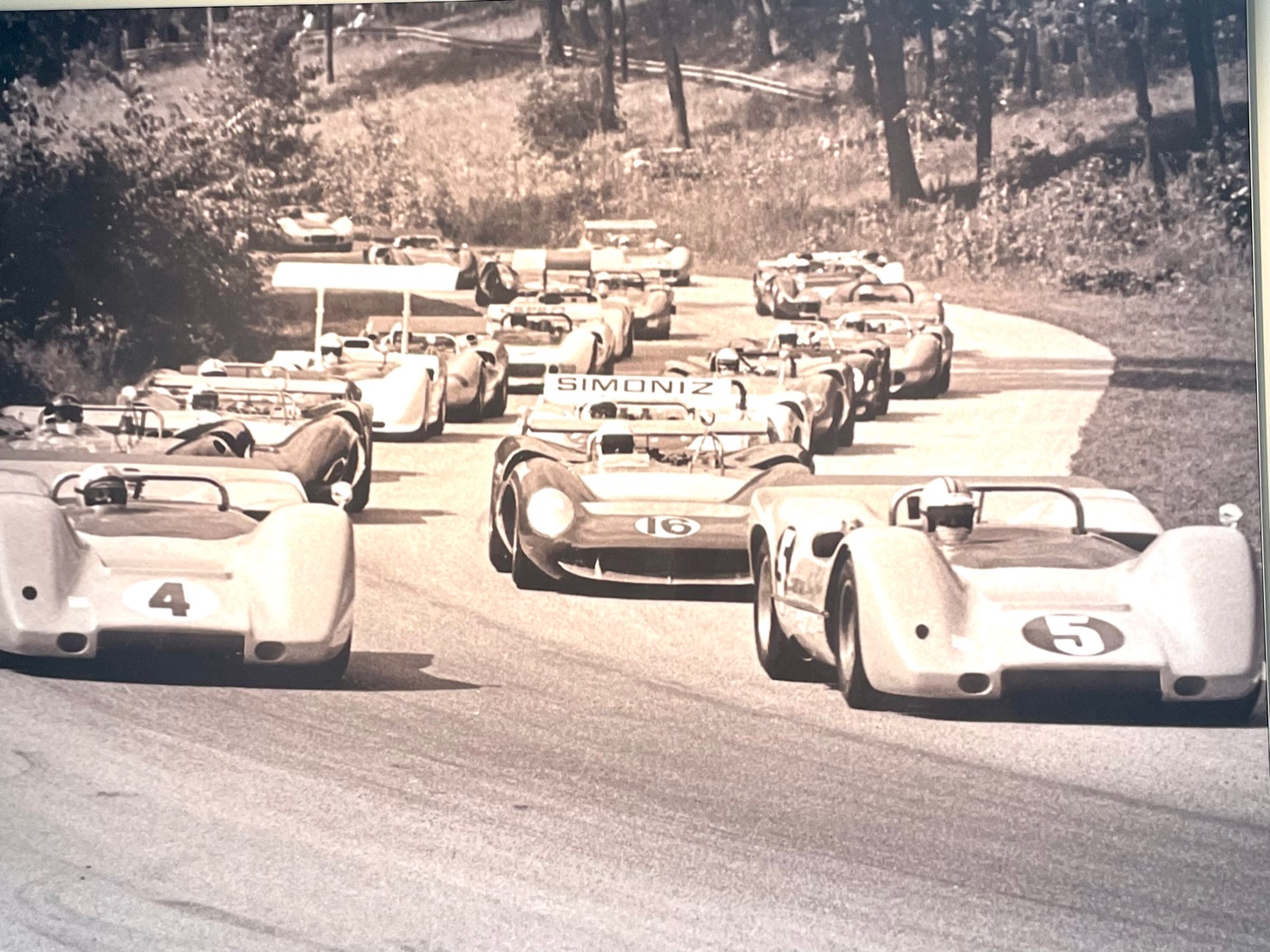 The Iconic Race America
#2 Experience Road America Race Course
To bring tourism to Elkhart Lake in the 1950s, sports car races were held on the streets around Elkhart Lake Village. The area was filled with sounds, sights and excitement. World class drivers and their exotic cars raced around the curves on a course to the finish line.
When the state legislature banned racing on public roads in 1952, an entrepreneur named Clifton 'Clif' Tufte organized a group of influential local citizens and leaders of the Chicago Region of the Sports Car Club of America (SCCA) to develop a permanent racecourse. They drew up plans and sold stock to build Road America.
By September 10, 1955, the first SCCA national race weekend was held. At 4.048 miles in length with 14 turns, it was revered as the world's finest and most challenging road courses. Today there are more than 500 automobile and motorcycle races, events and workshops held each year.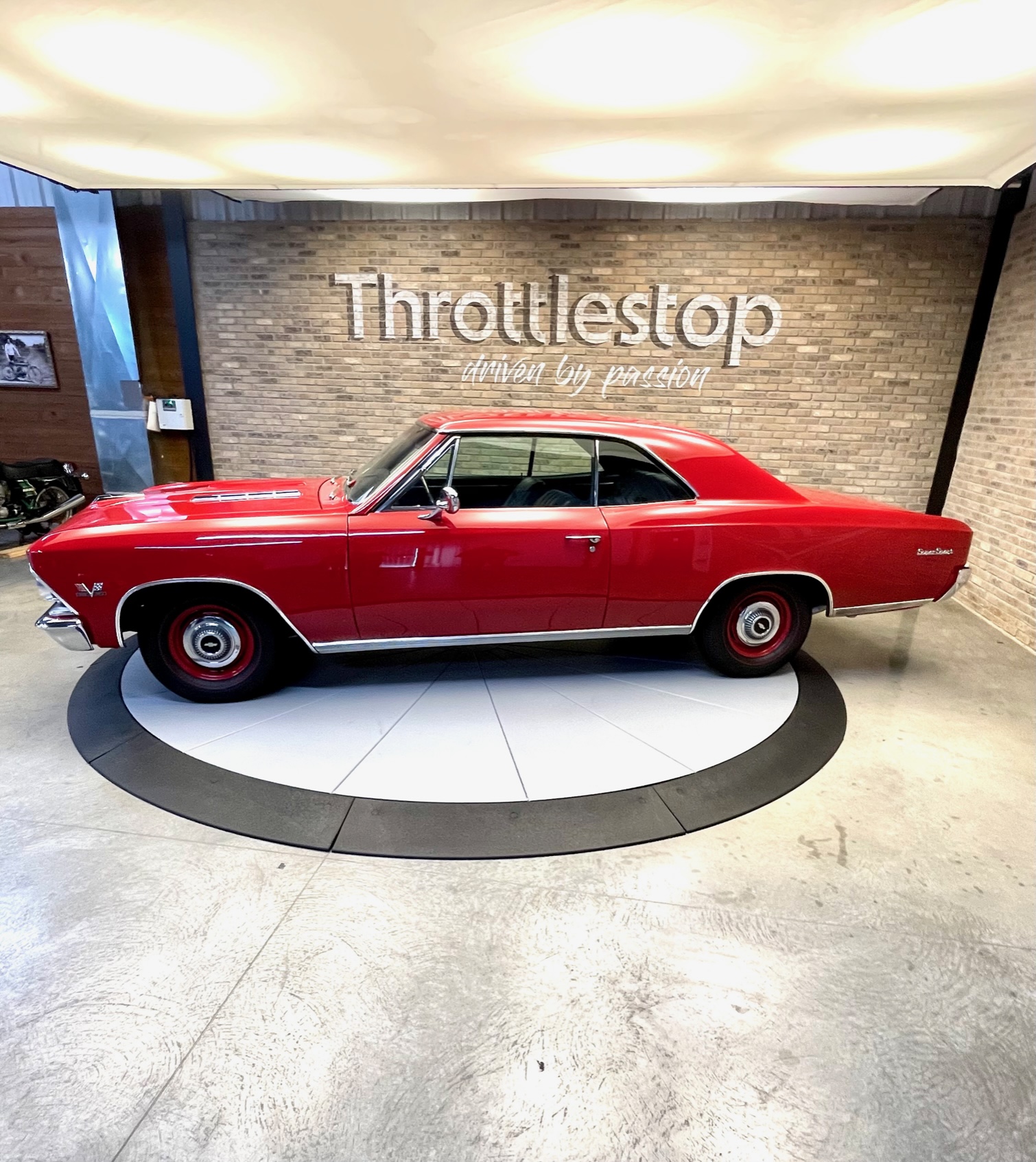 Throttleshop. Photo by Jill Weinlein
This luxury and historic car consignment automobile and motorcycle museum is eye-candy for car aficionados. Founded by lifelong friends Jim Balestrieri and Tom Kostrivas, their passion for cars, motorcycles, and racing is on display in different exhibit spaces. There are hundreds of rare vehicles and motorbikes.
Open from May through October, this is where car collectors go to purchase a car, and others just dream.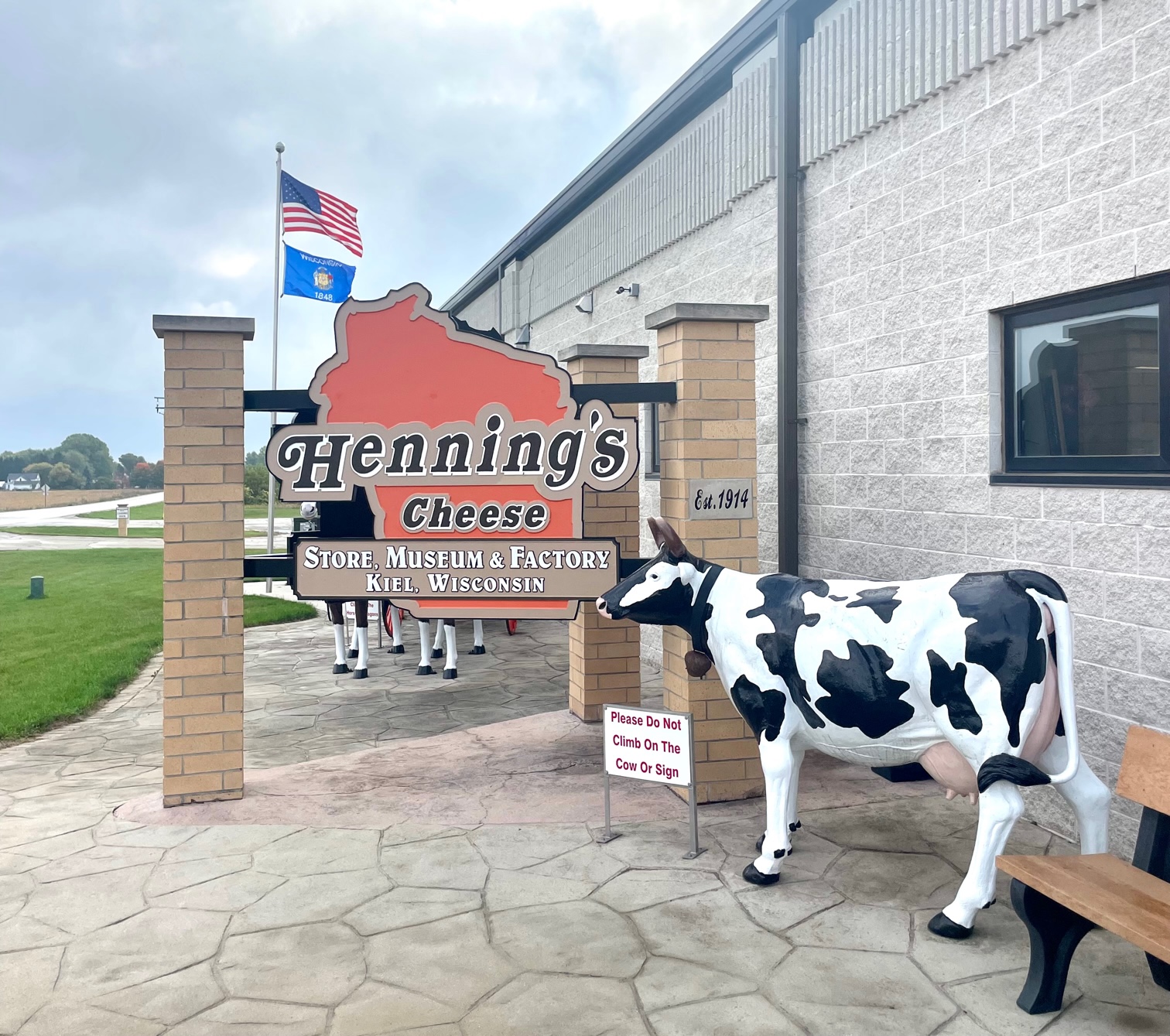 Henning's Cheese Factory. Photo Jill Weinlein
#4 Experience Cheese Tour and Tastings at Henning's Cheese Factory
When Otto & Norma Henning crafted cheese in rural Kiel, Wisconsin in 1914, it became a family activity. Later in life their son Everett and his wife Jellane took over a small cheese factory. With its popularity and success they outgrew the facility and built the present cheese factory. Their son Kerry became one of Wisconsin's elite cheesemakers winning numerous awards through the years. Now the fourth generation is making and running the factory.
Walk inside to taste their mild Cheddar, Colby and Apple Cheddar. All would make a delicious grilled cheese sandwich. They also make Maple Bourbon Cheddar, fresh Cheddar Cheese Curds, Blueberry Cobbler Cheddar, Peppercorn Cheddar, and their very popular, Hatch Chile Cheddar. Henning's was the first cheese factory to make this popular and flavorful cheese.
There is a small cheese museum near the glass windows looking into the cheese factory. Cheese is made on weekdays in the morning. The museum features an old cheese vat, a press, separator and butter making equipment. There is also a tester to check the butterfat in farmers milk delivered daily to the factory. Ask to watch the cheese-making video to learn more about this award-winning factory.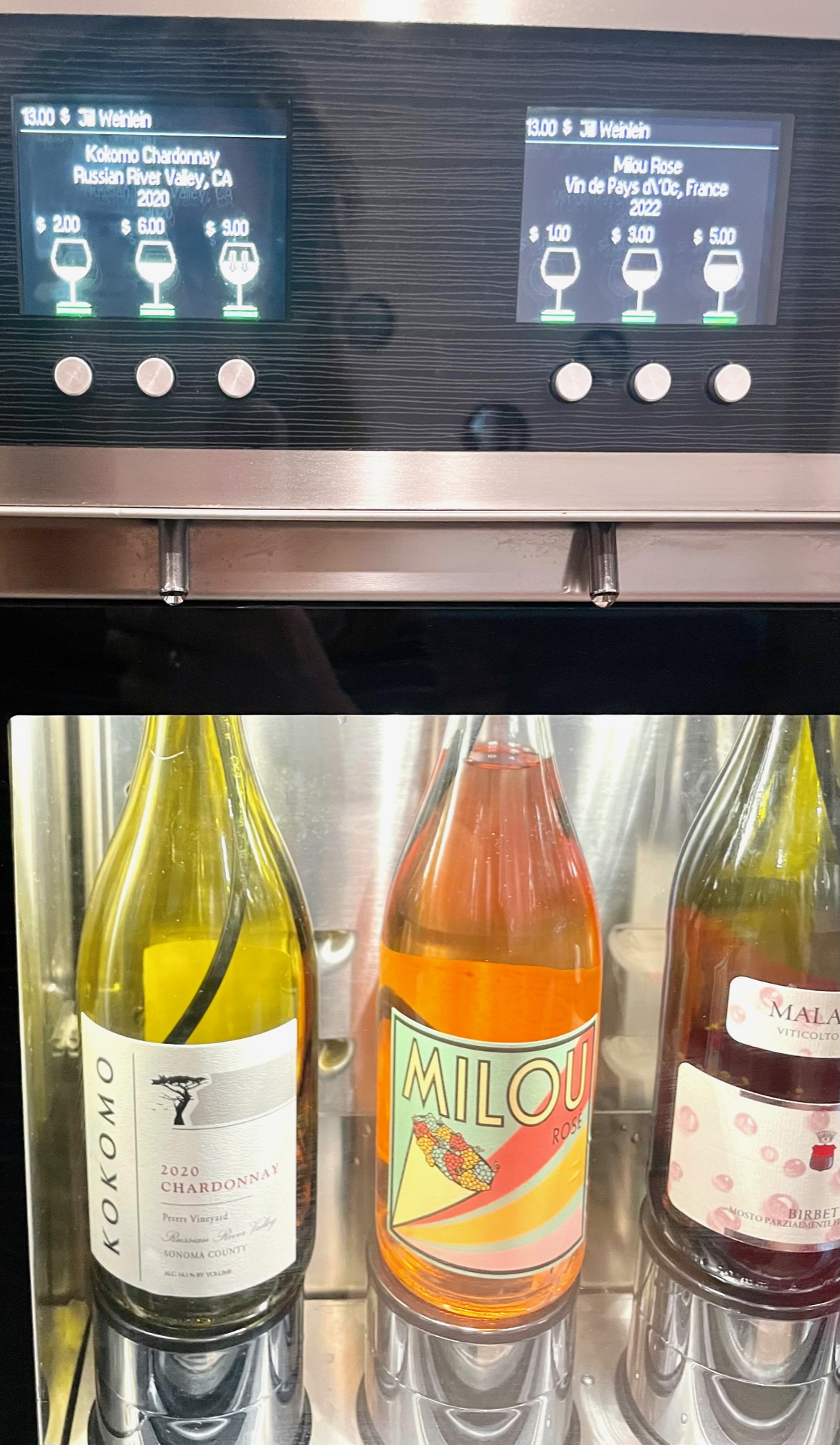 Vintage Elkhart Lake Wine Shop. Jill Weinlein
 #5: Experience Wine tasting at Vintage Elkhart Lake 
The only wine boutique in town, Vintage Wine & Fine Foods is located in the heart of Elkhart Lake's business and restaurant district. Fill a wine card with $15 or $20 for tastings or glasses of wines from the Wine-O-Matic machine in the cork decorated wine lounge. The owner curates 16 wines on tap that includes local, regional and international white, rose and reds.
Besides wine they sell craft beers, spirits and mixers, local chocolates and cheeses, olive oils and vinegar.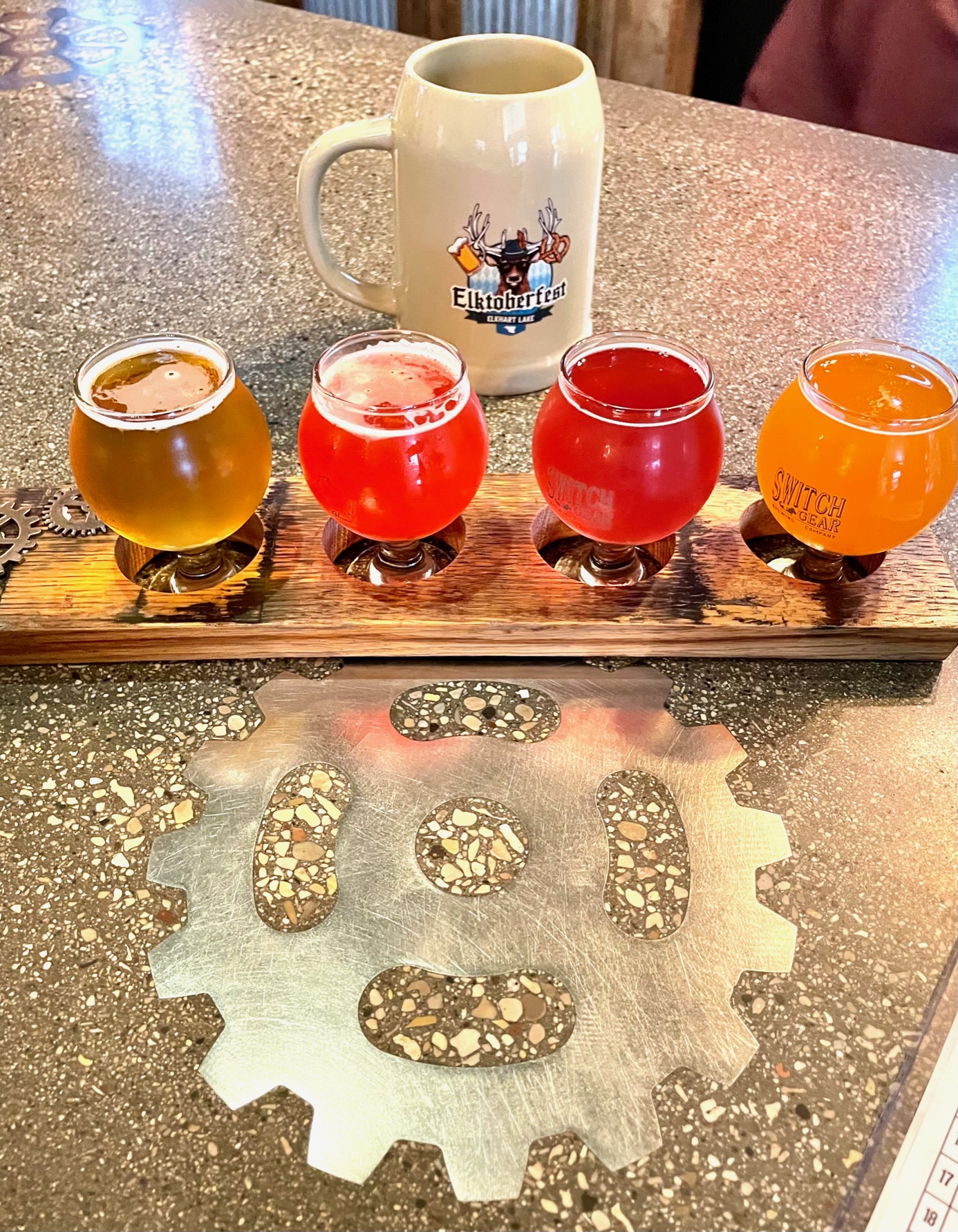 SwitchGear Brewing Company
#6 Experience SwitchGear Brewing Beer Flights 
SwitchGear Brewing Compay opened in May 2017, in the historic Feed Mill in downtown Elkhart Lake. Head brewer, Dustin, creates a variety of flavorful beers named Tiki Shores Shandy, Cherry Springer and Orange Krushable Sour.
The tasting room and brewery is located right at the Road America Start/Finish sign. During the 1951-1952 historic race circuit, this is where John Fitch from Cunninghams raced to victory in the 200-mile main events in both years. Phil Hill won the 1952 100-mile Sheldon Cup race driving a C-type Jaguar.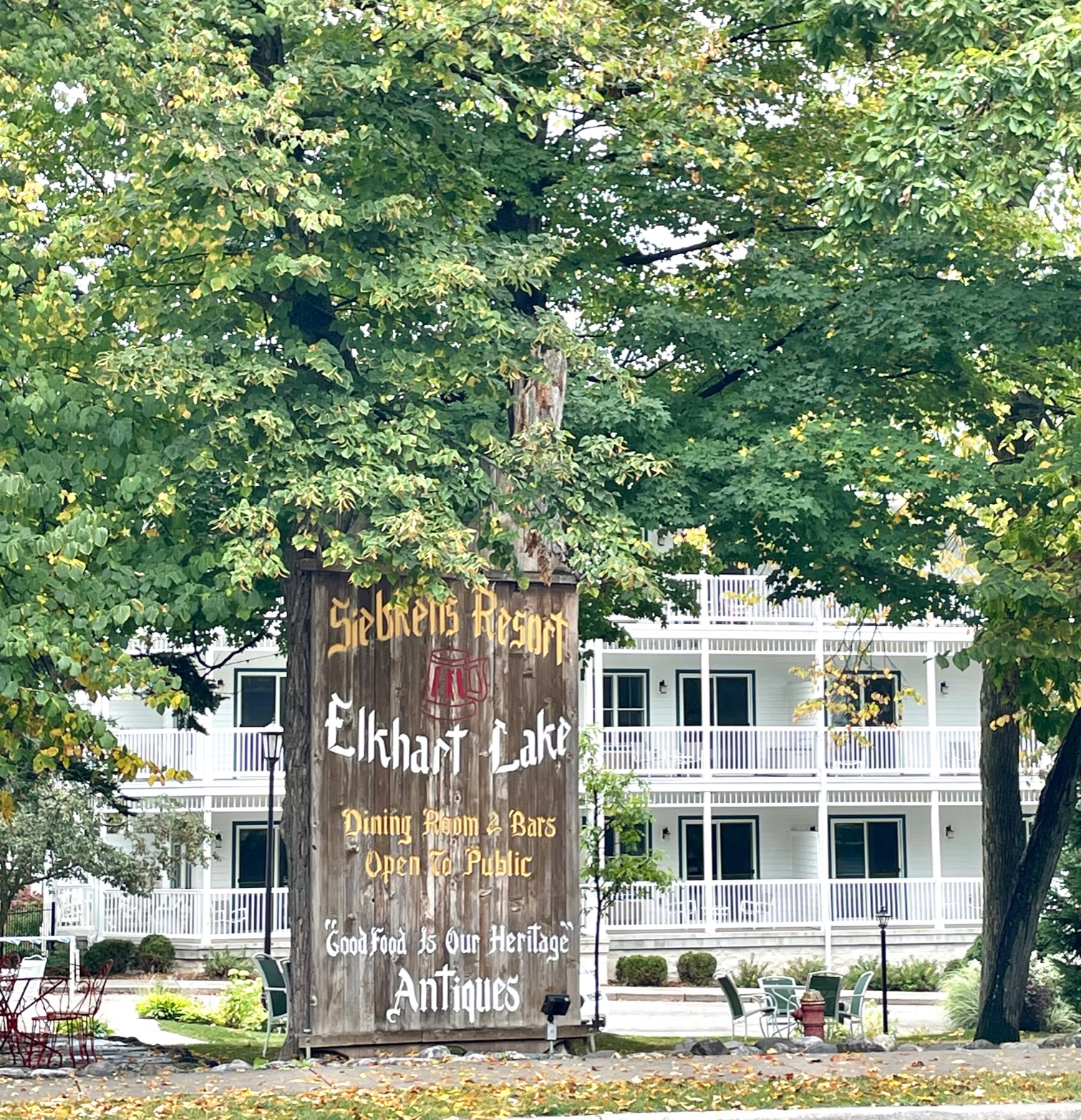 Siebken's Resort. Photo Jill Weinlein
Experience #7 Dine or stay at Siebkens Resort, a historical property that was also on the iconic Road America race track. Visit the "Stop-Inn Tavern" an internationally known "Best Bar" on the racing circuit. Order your favorite beverage and the famous Siebkens sandwich. It's a choice of turkey, roast beef, corned beef, or ham with a choice of cheddar, Swiss, or provolone. Served on Siebkens famous rye bread with tomato, red onion, lettuce, mayo, Dijon mustard, and a pickle spear.
During racing season, this is a popular spot for drivers later in the evening, along with locals and visitors. 
Dine at P.A.M.'s at Siebkens Resort for local favorite dishes such as Wisconsin cheese curds, smokey tomato bisque and a delicious sweet corn risotto. Open seasonally from May through September.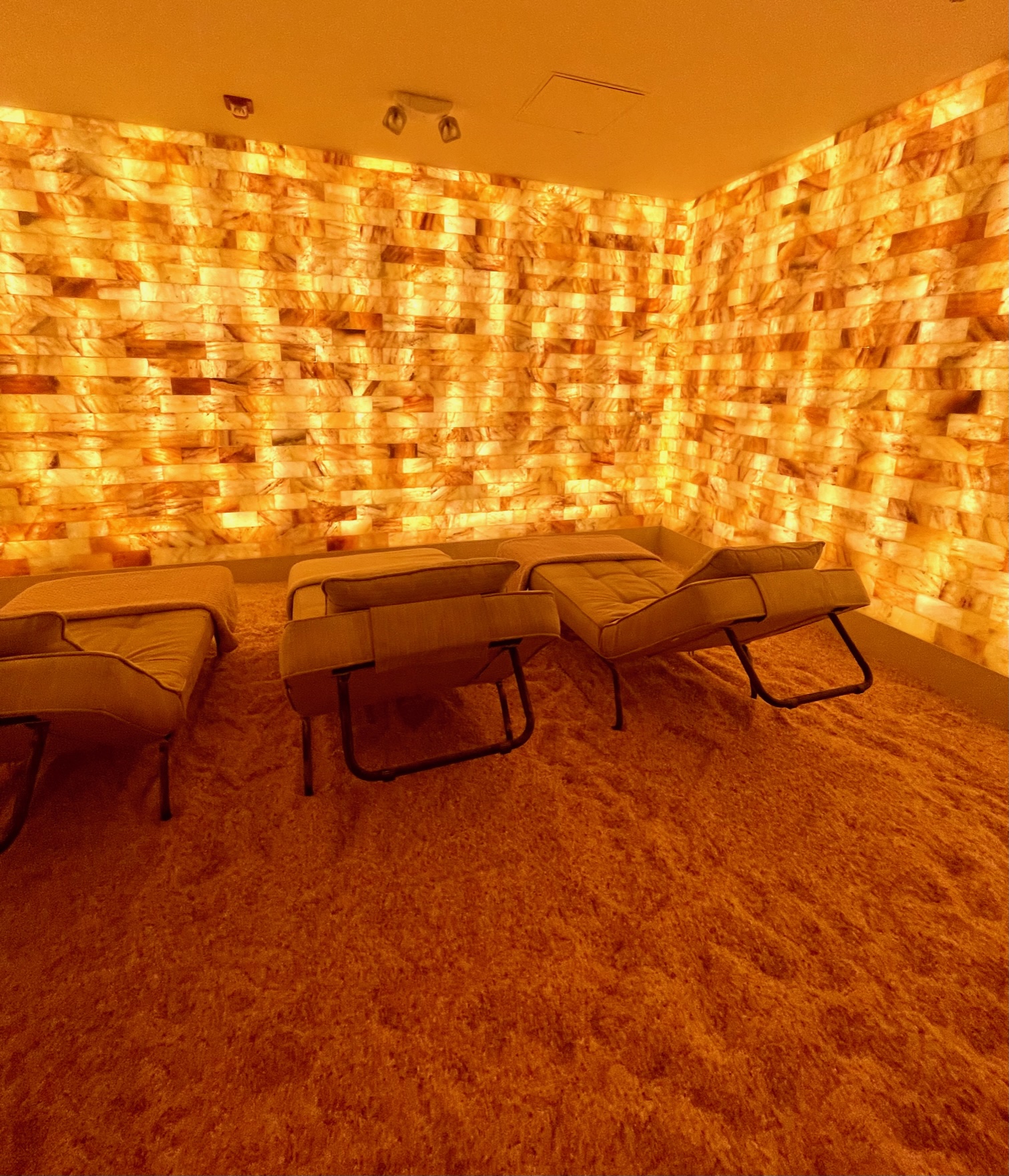 The Salt Room
Experience #8: Spa Day in The Salt Room at Aspira Spa at the Osthoff Resort. This is one of the largest and most luxurious spas in Wisconsin. Reserve a 45 minute relaxation session inside The Salt Room for halotherapy, a natural rock salt healing practice inspired by the salt caves in Poland.
The wellness benefits help cleanse the nasal passageways, relieving congestion, inflammation, allergies and skin irritations. 
Spa participants lie back in comfortable lounge chairs to read, listen to soothing music or nap through the session. Breathe in the salty air filled with minerals such as calcium, sodium, bromine, copper and potassium that get absorbed into your body. It's a great add-on to a facial or massage.
Elkhart Lake is an hour drive from Milwaukee Airport and less than three hours from Chicago. Visit Elhart Lake any time of the year.