Vincent Van Gogh is a famous dutch post-impressionist painter who the art community looked down on while he was alive. He's known as the mad artist due to his mental health issues leading up to his death. It wasn't until after he died that Van Gogh's artworks gained prominence. 
In his world-famous paintings, such as Starry Night and Potato Eaters, many critics attribute his brilliance in these paintings to his mental illness. But what do Vincent van Gogh artworks mean? Let's take a journey through the famous Van Gogh paintings list and provide criticism for their presentation. 
The Starry Night, 1889
Vincent Van Gogh's Starry Night is the most famous Vincent van Gogh artwork and was one of his last works before he took his life the following year. In his last days, Van Gogh lived in an asylum, being treated for his mental illness troubles. Starry Night is his depiction of the view from outside his window. 
Years later, the swirling strokes and the use of blue colors are instantly recognizable and have become a signature style for most Van Gogh paintings of the time. From this view, Van Gogh was looking down at a village settlement below him. The houses and general architecture remain predictable. 
The other elements, such as the tree and the sky, are painted with swirling strokes as if the artist was looking through a modified kaleidoscope. He uses shades of yellow and blue to represent the brightly lit moon and stars in a way that seems like the stars are falling from the sky like meteors. 
In general, the first glance at Starry Night will tell you that Van Gogh was troubled and only translated his worry from his heart into his paintings. But, just like this painting, Vincent's heart swirled and twirled as he battled insecurities with himself, his brother, and his failing artistic career.
Vincent Van Gogh painted this same view numerous times, in varying weather and time of the day. Every depiction shows the rolling hills, but none of them show the window bars in his asylum accommodation. 
Irises, 1889
Irises are yet another painting from the time of his stay at the asylum. The painting depicts a small portion of a garden of soft blue flowers. The vibrant colors and hue invite you to pick up the painting and smell it, hoping to catch a whiff of the flowers. 
Vincent Van Gogh painted this portrait in the asylum's garden. No surprise there, as other paintings from this era often feature the irises.
The artist plays with light and contrast using the colors blue and green. It's said that the painting is inspired by the ukiyo-e Japanese prints as it kept the flowers as the central focus of this painting. 
Speaking of light and contrast, the next van Gogh painting experiments with light and shadow in a new technique. 
The Potato Eaters 1885
The Potato Eaters is another original Vincent Van Gogh artwork. It depicts a family of four eating a dinner of potatoes after a hard day's work. 
The style and color in The Potato Eaters were quite popular in his day. However, in terms of color, this painting is not as visually striking as his others. Instead, it tells a tale of Vincent's style and technique development. 
The artist's career hadn't quite taken off financially, and he was probably beginning to think it was time to give the consumers what they already liked. So he deviated from his style and experimented with shadow and light, using the chiaroscuro technique to highlight the subject's bodily features. 
Compared to Van Gogh's other paintings, this one is dark and broody. It combines dark and sickly colors to portray a peasant life during dinner, and it was a genius move. Peasant's life was physically dull during this time, and using his choice of color and technique, he could prove himself as an artist for the common man.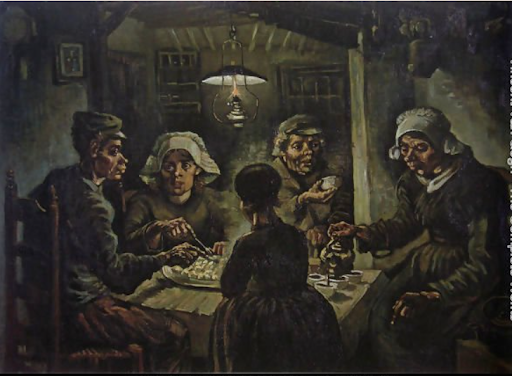 Tree Roots, 1890
Tree Roots was Van Gogh's last painting before he shot himself. It portrays tree roots in vibrant, striking colors with acute strokes of tree roots tangling and circling each other. 
The artist did not finish this painting. And that's why the style and composition were said to be harnessed at the peak of Van Gogh's madness. It doesn't follow a logical depiction of roots; without being told, you may not ascertain that you are indeed staring at tree roots. 
It's until you take a closer look that your mind unfolds, and you begin to draw parallels between winding brown roots and Van Gogh's blueish roots of different proportions. 
The Sorrowing Man (At Eternity's Gate), 1890
The Sorrowing Man, also known as At Eternity's Gate, is another painting of Van Gogh that's representative of his inner turmoil. He drew it at a time when he was just out of the asylum and revisiting his old works. 
It depicts an older man sitting in a chair, bent over with his face in his fists supported by his knees. In the background is a small fire burning near the painting's subject. 
His clothes are blue, a color symbolic of depression and sadness. Van Gogh uses this color in most of his paintings around the time spent in the asylum. 
Most people assume that the subject and props in the paintings are from the asylum, but that's not completely true. The old man sitting in the chair is Adrianus Jacobus Zuyderland, a war veteran. He modeled for Van Gogh at an art house in Hague, where Vincent conducted art studies of Adrianus. 
The original work Vincent revisited also features Adrianus in the same position. The composition is the same, but the old work was titled Worn Out and was a pencil drawing. About this painting, he said, "…the poorest woodcutter, heath farmer or miner can have moments of emotion and mood that give him a sense of an eternal home that he is close to.
Sadly, the painter was also experiencing moments of dark mood and emotions of his own. Two months after completing this deeply expressive painting, Vincent Van Gogh grew tired of going through his mental health issues and took a gun to himself. 
Conclusion
Vincent Van Gogh was an artist who lived a depressing yet inspiring life. Amid his turmoil, he leaned on art and gave the world some of the most beautiful artworks. Although he died young, Van Gogh's paintings, such as Starry Night, Sorrowing Man, and Potato Eaters, far outlive his beauty and meaning.