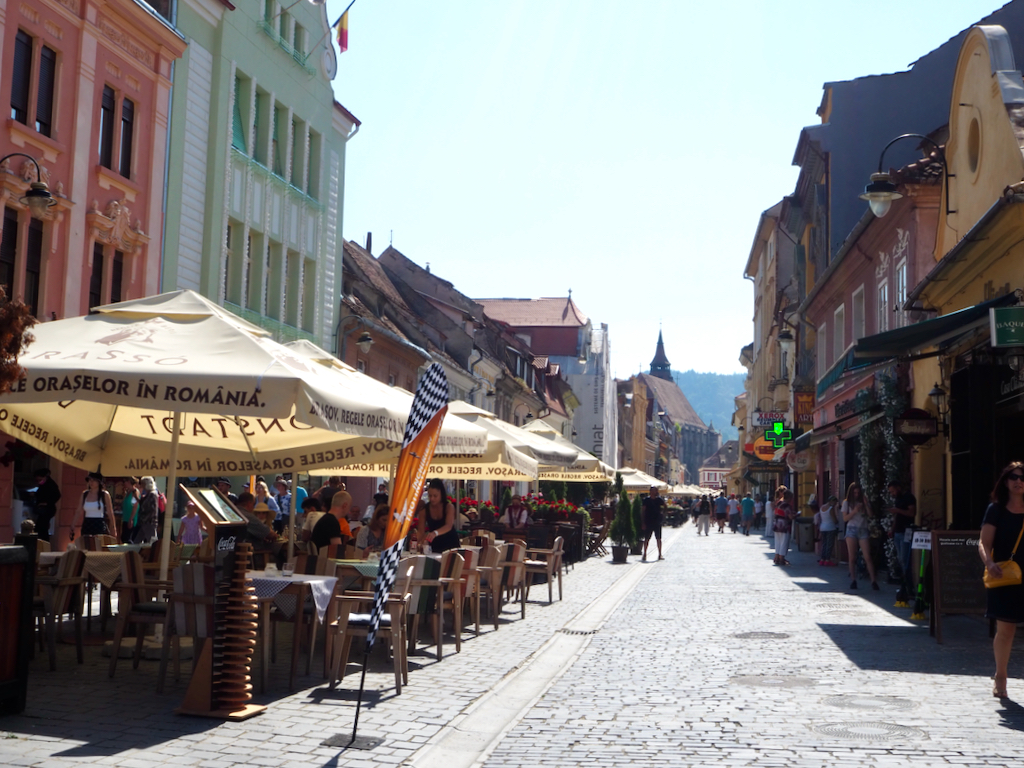 Columbia Hillen
Wander around the cobblestoned streets of medieval Old Town Brasov in Transylvania with its lively outdoor cafes and restaurants and you might feel you're in the Latin Quarter of Paris. 
Under summer sunshine, a short walk down Republic Street to the main square and the historic 14th century Black Church means passing crowds of people dining alfresco at a diverse range of venues.
Here are a few well worth a visit in one of Romania's most popular tourism destinations.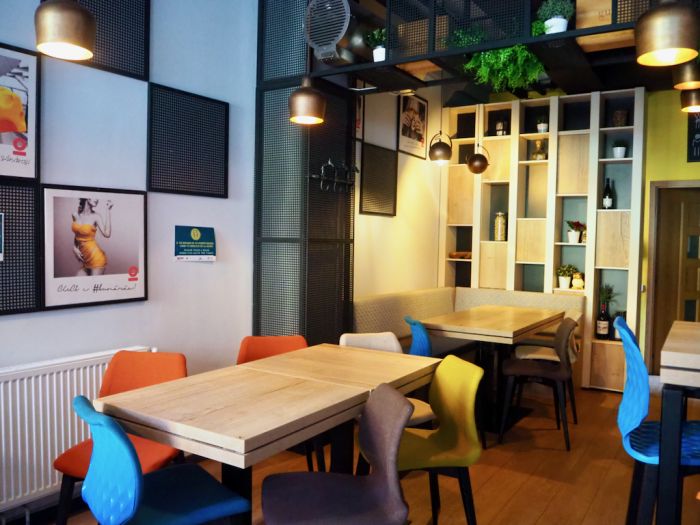 Columbia Hillen
Located in Casa Chitic, a charming boutique hotel in Old Town, we enjoyed a tasting menu, a veritable feast, under balmy evening skies. Burrata on home-made focaccia was followed by a creative salad mix of rucola, tomatoes and pomegranate. Next up was pizza featuring micro-greens grown in-house. Surprisingly for a hotel in the heartland of mountainside Transylvania, one of our main dishes was a delicious seafood platter comprising mussels, cockles and king prawns, the other being homemade pappardelle with a wine sauce and local truffles. Try the traditional chimney cake, or cozonak, with various fillings and the delicious bilberry liquor.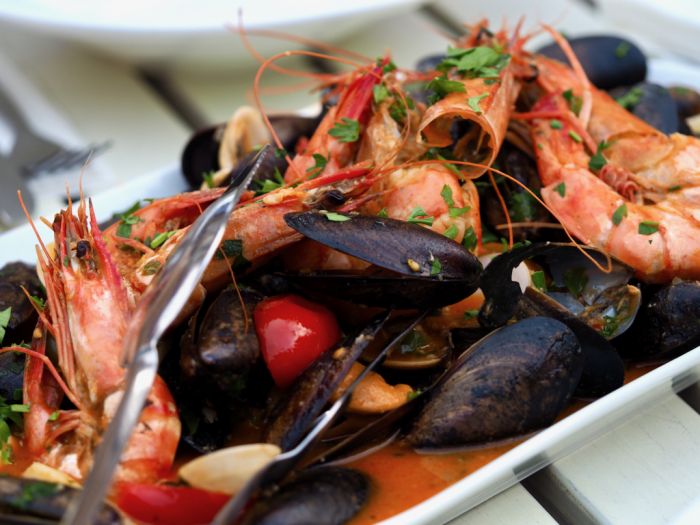 Columbia Hillen
The wine menu didn't disappoint either. Cuvee Sissi, a rosé from the Dealu Mare region of Romania, made from pinot noir followed by Cuvee 2016 by Lacerta Winery, named after the lizards in the region, the vineyard managed by Walter Friedl, a former commercial attache for the Austrian Embassy there. The wine comprises four grape varieties: cabaret sauvignon, merlot, feteasca neagra and syrah, the blend aged for a year in oak barrels.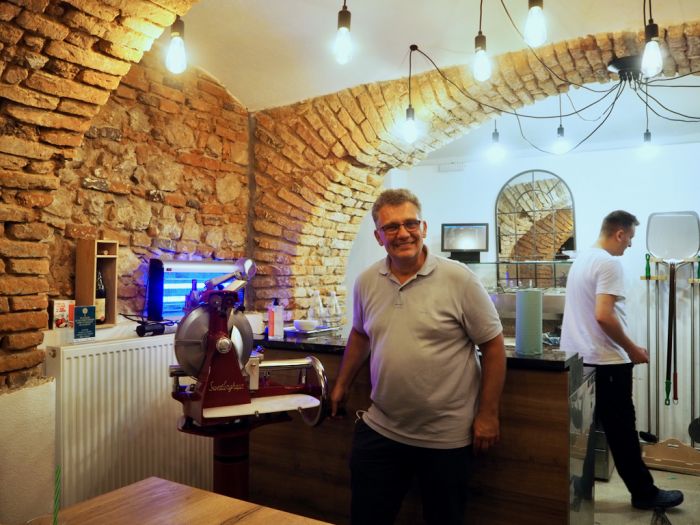 Cristian Macendonschi, Manager. Photo by Columbia Hillen
With luck you may meet the hotel's gregarious general manager, Cristian Macedonschi, an enthusiastic, unofficial ambassador for Brasov, who is one of the founders of the city's Octoberfest, hosts a series of food videos and is involved in many other local tourism projects.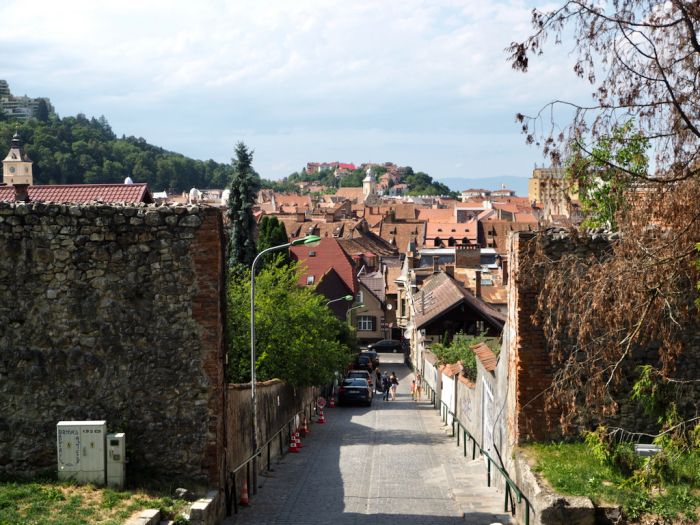 Columbia Hillen
It's almost impossible to visit Brasov and not dine at a Sergiana Group restaurant, the company operating ten in the region. Expect high-quality food as the company has its own pig and cattle farms, processes its own grains and runs a home bakery. 
We experienced two of its restaurants with very different ambiences – one, in an immense underground stone cellar, or crama, in Old Town and the other in a rustic setting high in the nearby mountains in Poiana Brasov.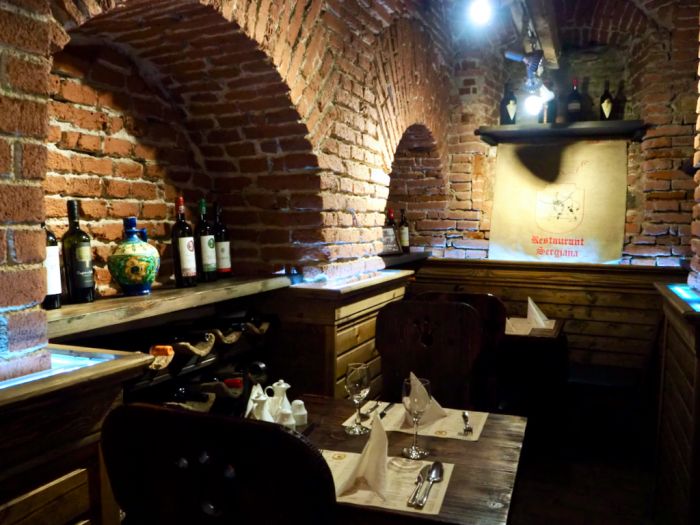 Columbia Hillen
Centrul Vechi (Old Town)
Located at the corner of a street at the edge of Old Town one could easily pass this restaurant without noticing the modest entrance sign. That makes what lies within all the more astonishing. Down a flight of steps and you're in an immense labyrinth-like cellar of interconnecting stone passageways with bare brick archways, a former storage area for potatoes during World War Two. And, some say, a former bordello.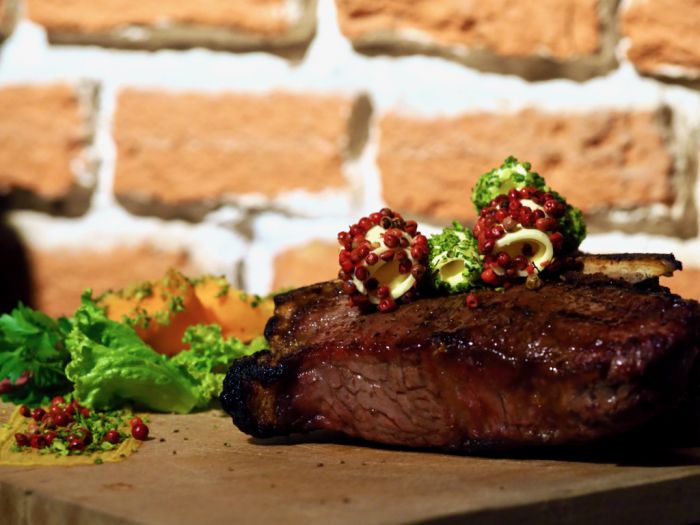 Columbia Hillen
An array of cosy nooks and crannies here accommodates more than 200 guests. Wearing colorful traditional Romanian costumes, servers present an impressively thick menu 'book,' the emphasis being heavily on meats of all kinds ranging from slow cooked pork rinds, grilled Angus T-bones, cow tongue and meat balls, or perisoare in Romanian.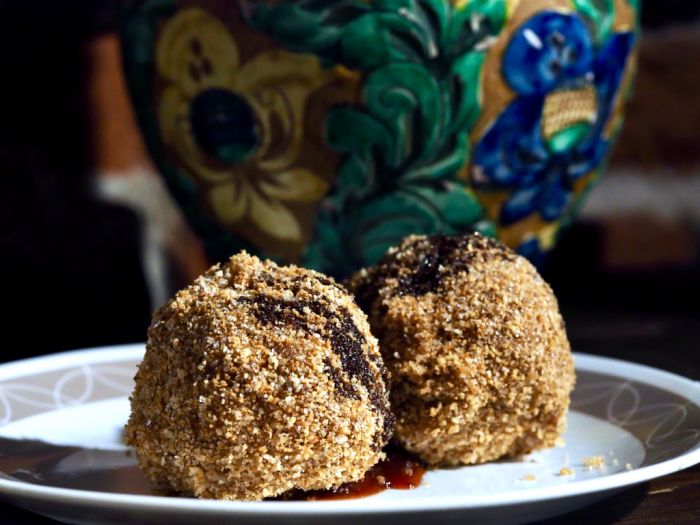 Columbia Hillen
Start with one of the traditional soups – bean, tripe, hen or even ciorba de perisoare. Be aware, helpings are generous so take your time or you'll likely leave with a heavy belly. Leave space for the traditional dessert of plum and walnut dumplings (galuste cu prune or gomboti).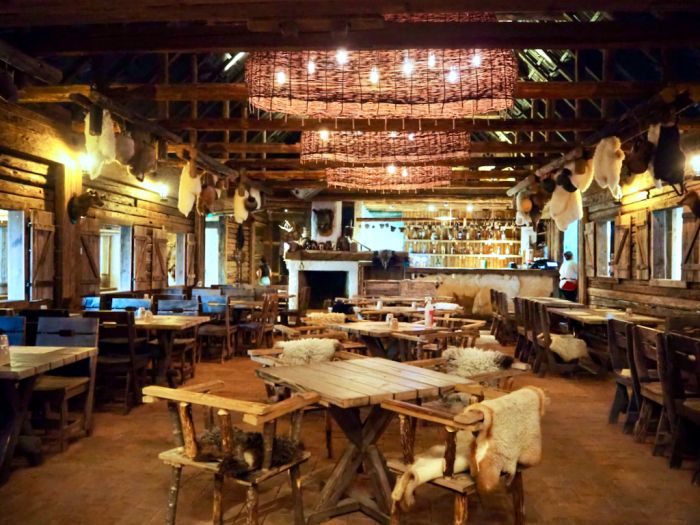 Columbia Hillen
Stana Turistica (Sheepfold)
In contrast to the Old Town location, Sergiana's Sheepfold restaurant stands on a sloping meadow in Poiana Brasov, a mountainous region half an hour's drive up a steep winding road from the city. Offering terrific views over pine-clad forests, it covers an extensive area, large enough to seat around 500 people, both inside and out.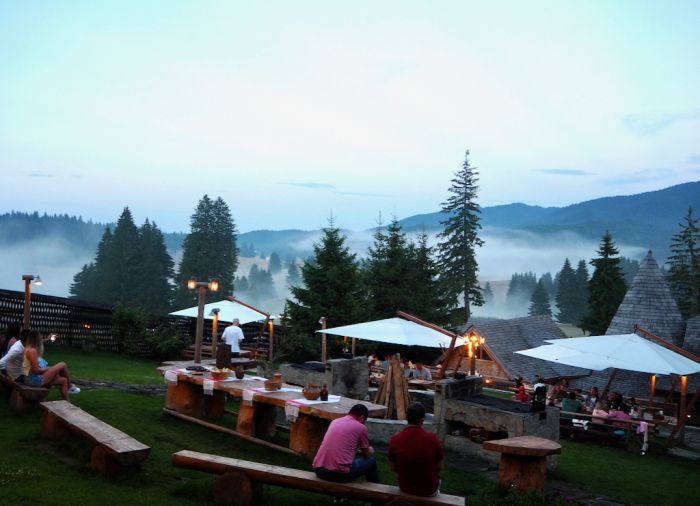 Columbia Hillen
Enhancing its rustic setting, outdoor seating is made from wooden logs with a sheepskin covering on bare rock flooring. For added ambience, a bonfire is lit every night. The menu reflects local culinary traditions with starters such as baked peppers (ardei copt), cooked lentils and polenta with cheese (bulz ciobanesc).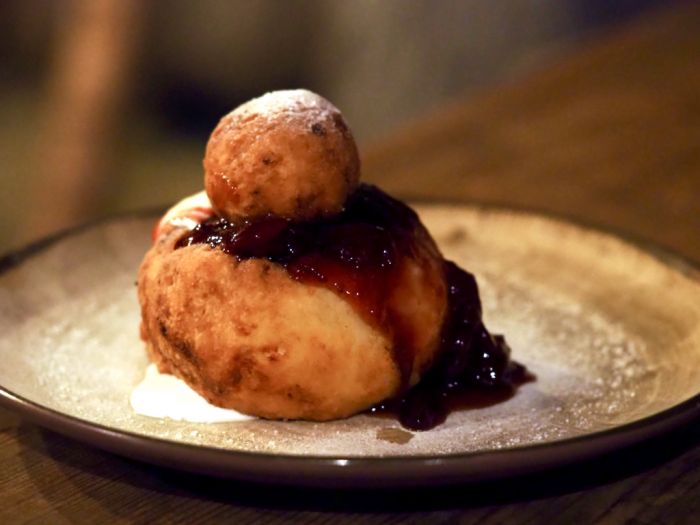 Columbia Hillen
Meat dishes range from boar stew and deer with mushrooms and chives to what is termed 'a shepherd's bag,' a pork fillet with smoked sausages and cheese. Don't forget to try one of Romania's most popular desserts, papanasi, a tasty donut made with fresh cheese covered in cream and wild berries. Top it off with a walnut liquor (lichior de nuci) or Samaro, a green walnut digestive with herbs and propolis.