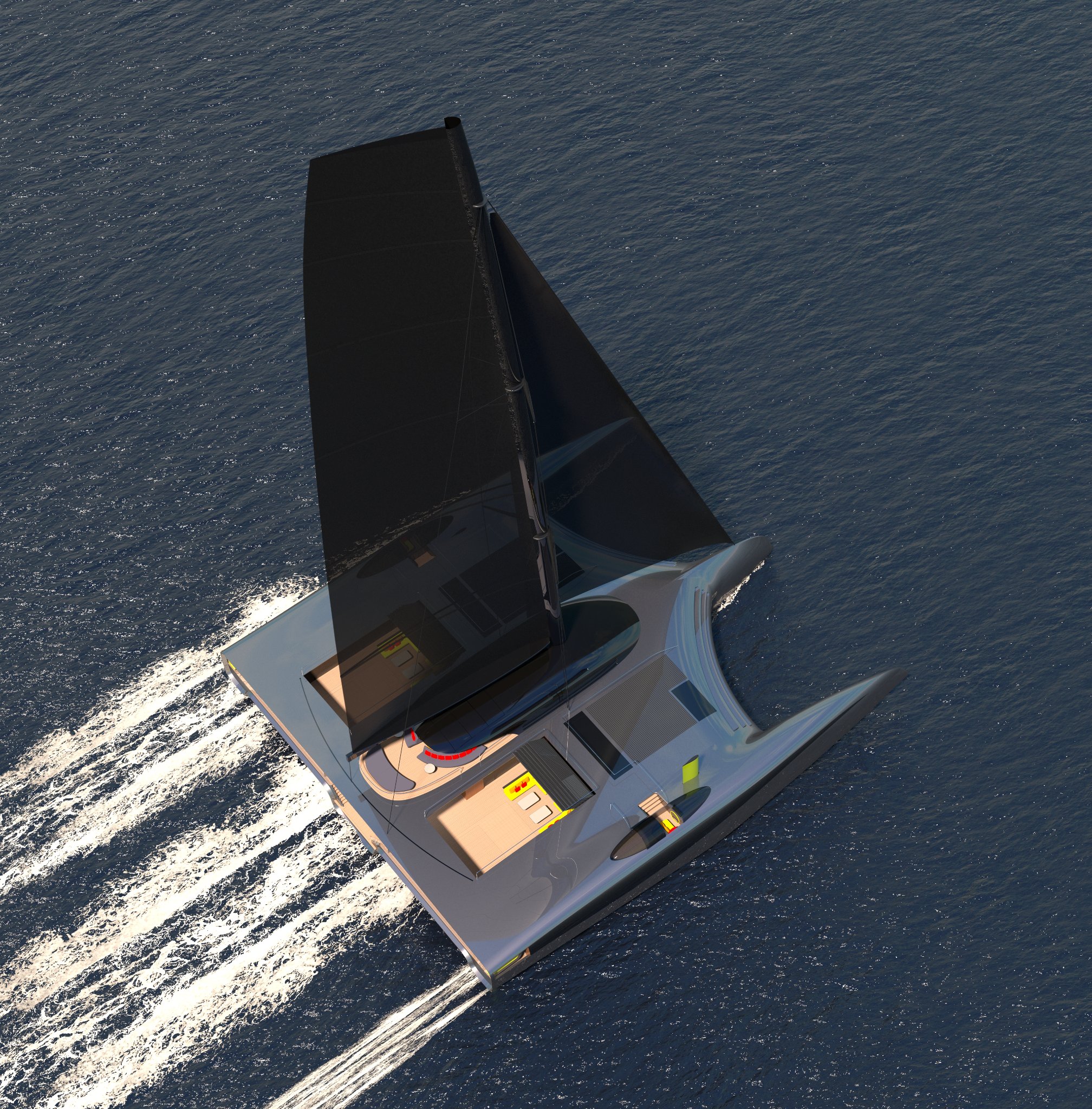 Rob Doyle and Van Geest Design
Global warming is a concern that can no longer be ignored. The yachting industry has contributed its fair share to the carbon-di-oxide emissions, and there have been conscious efforts to combat and design eco-friendly designs. One such amazing designer is Rob Doyle; with a two-decade experience in the large yacht sector, he is a visionary. "Just because superyachts are what they are now, does not mean they should stay this way. We were constantly looking at every aspect of the design and saying, 'is there a better way? We truly believe that this project will redefine what a multi-hull sailing superyacht can be.", says Rob Doyle.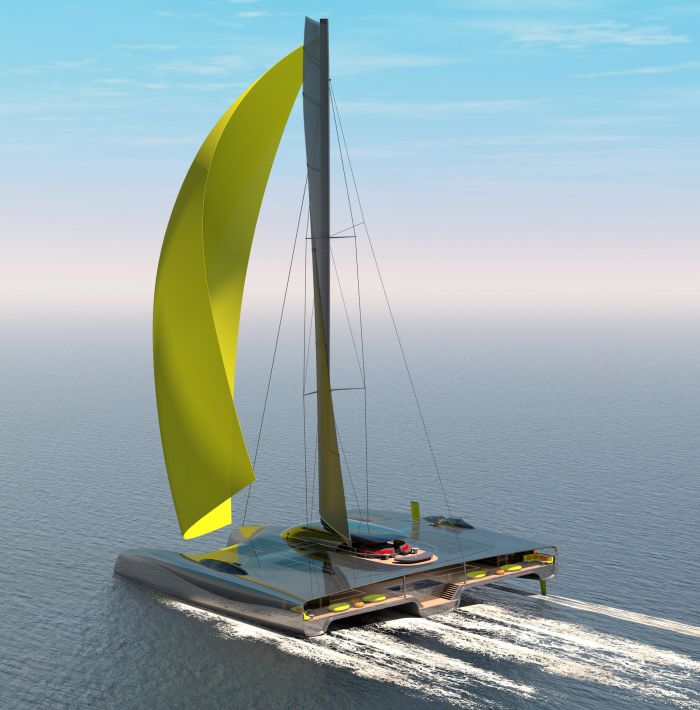 Rob Doyle and Van Geest Design
The designer has now collaborated with Dutch-born yacht designer Van Geest Design to create a unique yacht – a trimaran. Its interior volume compares to that of a 60-meter rival; however, 'Domus' is environmentally conscious and the first of its kind zero emission yacht with over 750 GT.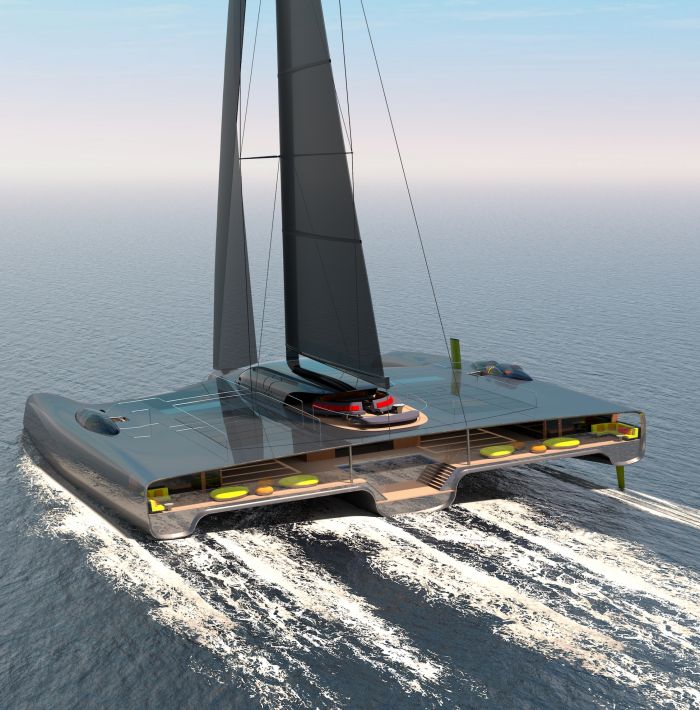 Rob Doyle and Van Geest Design
Domus is Latin for a single-story house built around an atrium and draws aspects from the design to create a lofty, open feeling. With a beam of 35m, the trimaran can comfortably house various luxuries in its interior space of 780 sq. m. Two decks of Domus can easily accommodate 12 guests within four VIP suites and two owner's suites accompanied by a private lounge area. For recreation, there is a bar in the main saloon along with a cinema room and gym. To make relaxation fun, there is a spa area near the swimming pool. 

Rob Doyle and Van Geest Design
Domus is a result of two years of extensive research; the designers have designed her in a way that ables her to reach her maximum potential. Domus can heel at an angle of two degrees to improve her speed and reduce drag. 'The uniquely designed combination of solar power, hydro-regeneration technology and hydrogen fuel cells gives Domus unlimited range with zero emissions.', said the design team. She powers through the daylight hours and transfers over to the battery system at night, thus remaining completely silent with zero emissions while at anchor. 'We strongly believe if you want the benefits of multi-hulls at a 40-meter-plus size, the only practical solution is a trimaran.', the design team adds.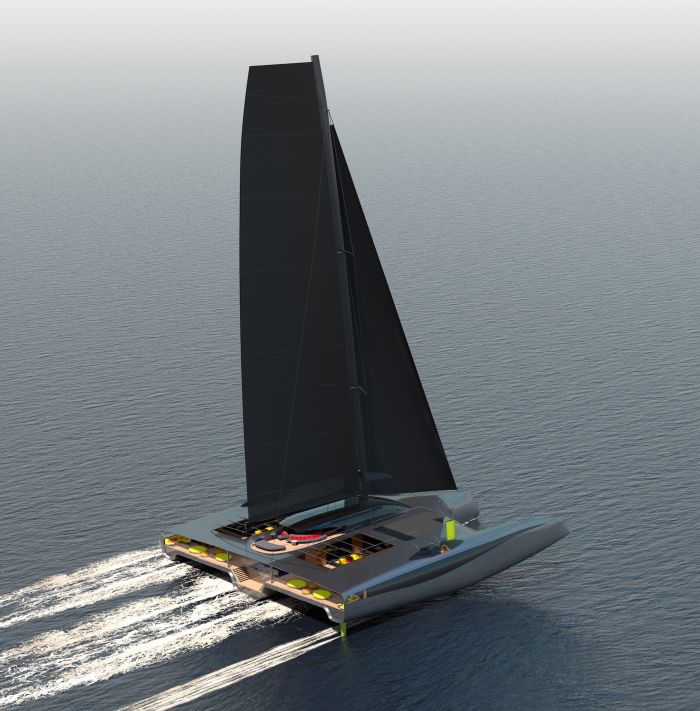 Rob Doyle and Van Geest Design
Trimarans are cost-efficient and simple to construct; Domus too has all the systems and engineering located in the central hull, which helps maintain the crossbeam structures simpler and straightforward. 
Alongside the 40-meter concept, the design duo are also working on a larger version of the idea for a shipyard.