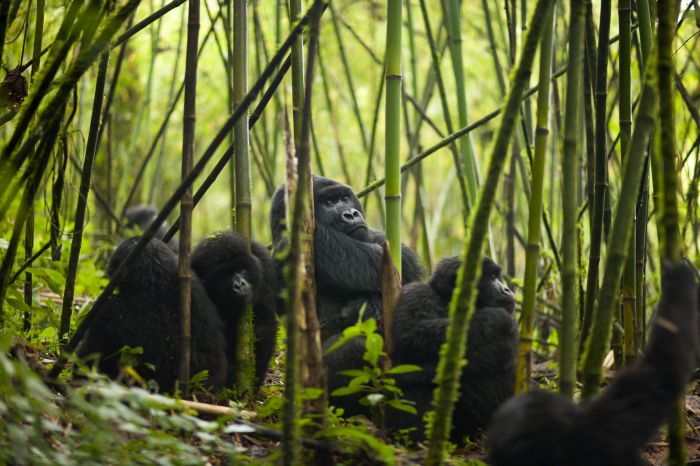 (credit: Visit Rwanda)
The beautiful country of Rwanda is located a few degrees south of the Equator, where the African Great Lakes region and East Africa converge. Known as the 'land of a thousand hills', with numerous lakes and jungles throughout the country, Rwanda has an economy which is based mostly on subsistence agriculture (coffee and tea are the major cash crops for export), while tourism is becoming a fast-growing sector. This is in part due to the fact that Rwanda is one of only two countries in which there is tourism infrastructure built around mountain gorilla visitation.
Situated in the far northwest of Rwanda, Volcanoes National Park provides the ultimate backdrop for tracking endangered mountain gorillas through the mysterious intimacy of the rainforest. In the park, expert trackers and guides lead small groups of tourists up bamboo-covered slopes to spend a precious and awe-inspiring hour just a few feet away from the gentle creatures. On these treks, visitors embark on a once-in-a-lifetime journey to see gorillas up close and personal hiking through the lush green landscape.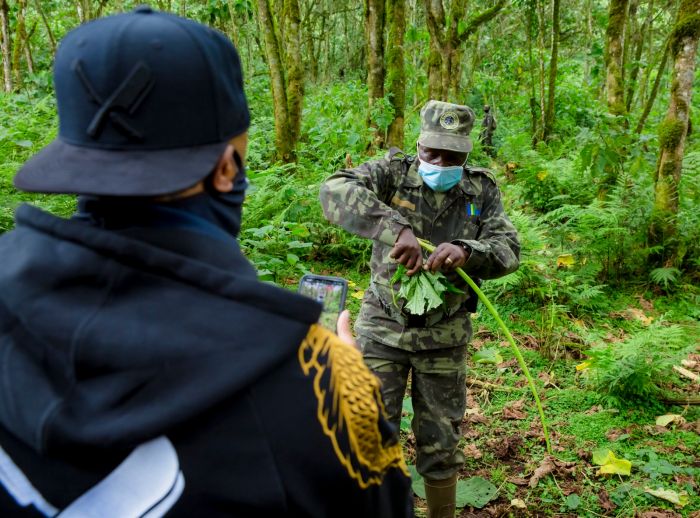 (credit: Visit Rwanda)
With twelve families (AKA 'troops') of gorillas living in Volcanoes National Park, each troop consists of at least one silverback, several females and young gorillas. According to experts, at the latest count, there are approximately 1,000 mountain gorillas in the wild, with 604 in the Virunga Massif with the population slowly increasing. This recent uptick in part is due to Rwanda's revenue sharing program which ensures that 10% of the revenue generated from gorilla trekking permits go back to directly benefit the communities surrounding the national parks as well as concerted efforts between governmental entities, communities and NGOs.
These treks provide an intimate and unobtrusive experience as a limited number of permits are available each day. For a maximum of one hour per day, groups of trekkers encounter these amazing creatures.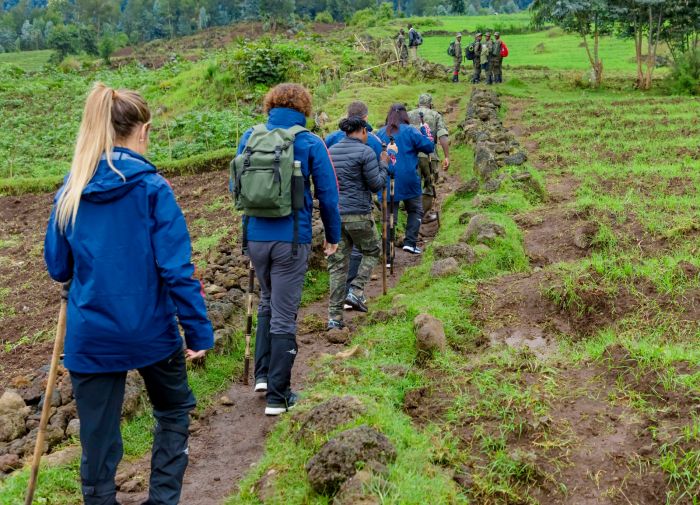 (credit: Visit Rwanda)
Before visitors begin their trek, they meet at the Volcanoes National Park headquarters in Kinigi early in the morning where they are briefed on protocols and split up into a family group (Susa, Igisha, Karisimbi, Sabyinyo, Amahoro, Agashya, Kwitonda, Umubano, Hirwa, Bwenge, Ugyenda and Muhoza) based on their fitness levels. This is due to the fact that hikes can range from 30 minutes to three or four hours reaching an altitude of between 2,500m and 4,000m and the rangers want trekkers to feel comfortable based on their fitness levels. Porters are also available to carry visitors' items while they trek so they can focus more on the experience. 
On each trek visitors learn from the guides about the gorillas' daily routines, all the while observing them. 
A gorilla tracking permit costs $1,500 per person, with the minimum age required to track being 15 years old. More information on how to book your life-changing experience can be found here: https://www.visitrwanda.com/interests/gorilla-tracking/. 
Popular accommodations for travelers visiting Volcanoes National Park include Virunga Lodge, One & Only Gorilla's Nest, Singita Kwitonda Lodge, Bisate Lodge or Amakoro Lodge.