Companies to showcase products and demos at MWC Barcelona 2023
Bristol and Reading, UK – Tuesday 31st January 2023 – Picocom, the 5G Open RAN baseband semiconductor and software specialist, today announced Antevia Networks has selected Picocom's award-winning silicon technology to empower its new innovative 5G in-building solutions. The partnership combines Antevia Networks' technology with Picocom's latest generation 5G system-on-chip silicon to drive innovations to address the many challenges of deploying indoor 5G private networks.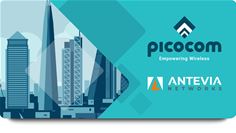 Picocom and Antevia Networks
The all-new Antevia Networks 5G solution delivers a cost-effective 5G private network deployment that enables intelligent routing of coverage and capacity within buildings or campuses to accommodate variable demand or simply to provide highly reliable 5G connectivity.
"Antevia Networks is pioneering a new class of 5G private network coverage for enterprises worldwide. In working together with Picocom, their state-of-the-art 5G silicon and collaborative approach is allowing us to innovate faster, reach the market sooner and deliver groundbreaking solutions for enterprises needing cost-effective 5G private networks," said Simon Cosgrove, CEO of Antevia Networks.
"I have been very impressed by how Antevia Networks has taken Picocom's Open RAN O-DU and O-RU components and built a truly innovative solution for indoor coverage, built on the standard open interfaces defined by the O-RAN Alliance", said Peter Claydon, President of Picocom. "This is a great illustration of how Open RAN enables network operators to create highly differentiated products on top of the building blocks that Picocom's flexible silicon provides."
Antevia Networks' approach to 5G in-building private networks revolutionises the RAN design, which improves coverage, capacity and service robustness whilst keeping the costs low enough to make it affordable for enterprise.
PC802 is shipping in mass production quantities together with mature software for Open RAN Distributed Units (O-DU) and Radio Units (O-RU), as well as integrated small cells. In addition, PC802 supports both 4G LTE and 5G NR.
Picocom and Antevia Networks will be at MWC Barcelona 2023 in Hall 5 – Stand 5I32. To arrange a meeting demo with Picocom and/or Antevia Networks at MWC, email [email protected].
For more information on Picocom's PC802 5G small cell SoC, visit picocom.com/products/socs/pc802.
For more information on Antevia Networks, visit antevianetworks.com.
-ends-
About Picocom
Picocom is a semiconductor company that designs and markets open RAN standard-compliant baseband SoCs and carrier-grade software products for 5G small cell infrastructure. The company, founded in 2018, has R&D engineering sites in Hangzhou and Beijing, China, and Bristol, UK. Picocom founding members have significant experience and track record in leading teams designing baseband infrastructure products. Picocom is a proud member of the Small Cell Forum and O-RAN Alliance wireless industry associations.
For more information, visit www.picocom.com
About Antevia Networks
Antevia Networks design and develop 5G in-building Solutions for enterprises. Antevia Ltd was formed in March 2021 and is based in Reading, UK, with research and development teams in Vancouver, Canada. Antevia's leadership team have significant experience in 2G, 3G and 4G in-building coverage and is using new Open-RAN based technology to pioneer a new class of in-building 5G coverage and capacity for enterprises.
For more information, visit www.antevianetworks.com or connect on LinkedIn.
Picocom company contact
Oliver Davies
VP Marketing
Picocom
[email protected]
+44 7973 659 231
Antevia Networks company contact
Alex Smith
VP Product Management
Antevia Networks
[email protected]
T: +44 7941 535 847
Media Contact
Richard Howson
Temono for Picocom
[email protected]
+44 7833 693 862