Knives are considered the most anticipated and rare items in CS:GO. They are available by default to all players without exception. The quality of knives often directly affects their market value: as the quality deteriorates, the price becomes lower. However, do not think you can buy an unpopular knife for just a few dollars. Even for the most common skin, you will have to pay at least $35–40. In turn, the upper limit can reach $20,000, as it was with the M9 Bayonet | Crimson Web in the StatTrak version. It was sold for a record $24,000. In general, prices for knife skins depend not only on wear rate but also on specific indicators such as hardening, gradient, web, and other patterns.
What else is worth knowing about CS:GO knives? Probably the fact that all knives are marked as extremely rare, special items. The probability that you will drop a knife as a result of opening a CS:GO case is only 0.2% in the basic version and 0.02% for StatTrak. In addition to ordinary gamers, knives are hunted by traders and collectors, which makes them the most coveted piece of inventory on the Steam market. Alongside other weapons, Karambit Lore is one of the most beautiful and expensive knives in the game. Let's have a closer look at this item.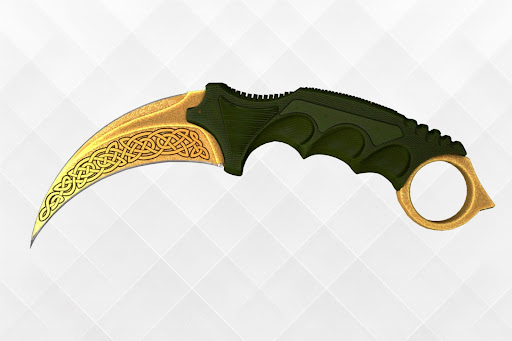 Karambit | Lore: Short Overview
Probably one of the sexiest knife designs ever! The Lore skin looks amazing on any knife. However, it is the Karambit version that is one of the rarest, if not the rarest, skins. If you want to replenish your inventory with this exclusive item, its cost starts at $424 for the Battle-Scarred version. For the Factory New StatTrak version, you will have to pay up to $1,700. There are not too many copies of this design available. So the risk of meeting a player with the same skin is just minimal. Here are some basic facts about this knife to know:
It was added to the game within the Gamma Exposure update in June 2016;

The skin belongs to the Covert group and the Lore series;

The float value ranges between 0 and 0.65, so it is available in any conditions.
The Karambit | Lore design is just exciting: while the handle has this slight green hue, the blade is covered with gold and amazing decoration. In fact, this skin has become the continuation of the Dragon Lore theme. This skin can be obtained from two Gamma Cases. However, this possibility is minimal. The chances of getting the Karambit | Lore knife as a result of an open case is two-tenths of a percent. It is estimated that, on average, players spend about $300 on case keys before they drop the knife. Therefore, the surest option to replenish your inventory with a new Karambit | Lore is to buy it for real money on a trusted trading platform. 
In Conclusion
Professional players use knife skins to emphasize their status. For this reason, they are also highly valued among regular players. Even the best gloves couldn't displace the hype around the beautiful gradients or bizarre patterns of Karambit | Lore. In addition to pro players, knife skins are appreciated by traders and collectors, which stimulates a steady demand for these rare in-game items. Obviously, having the Karambit | Lore in your inventory is just exciting. However, waiting for the desired drop is time-wasting, so we recommend considering purchasing this item. As it constantly grows in price, you can buy Karambit | Lore at a favorable price and then sell it when you don't need it anymore.