Courtesy of Sur La Table
Admit it: There is nothing quite like the taste of a Neapolitan-style pizza baked fresh in a wood or coal-fired oven.
Topped with fresh ingredients emerging piping hot from the oven with a fire-kissed bubbly crust, it just might be the ultimate comfort and crave-worthy food.
Instead of having to visit your favorite pizzeria which could be miles away, what if you were able to recreate that same flavor from the comfort of your own backyard?
Now you can, thanks to the Ooni Karu 12G Multi-Fuel Pizza Oven.
This 34-pound, sleek spaceship-style stainless steel model has the option of being fueled by either charcoal or wood for that same authentic flavor we have all come to love. If ease of use is more important than obtaining the traditional wood-fired flavor, a gas burner attachment (sold separately) is also available that will allow you to hook the unit up to a propane tank for even and consistent heat.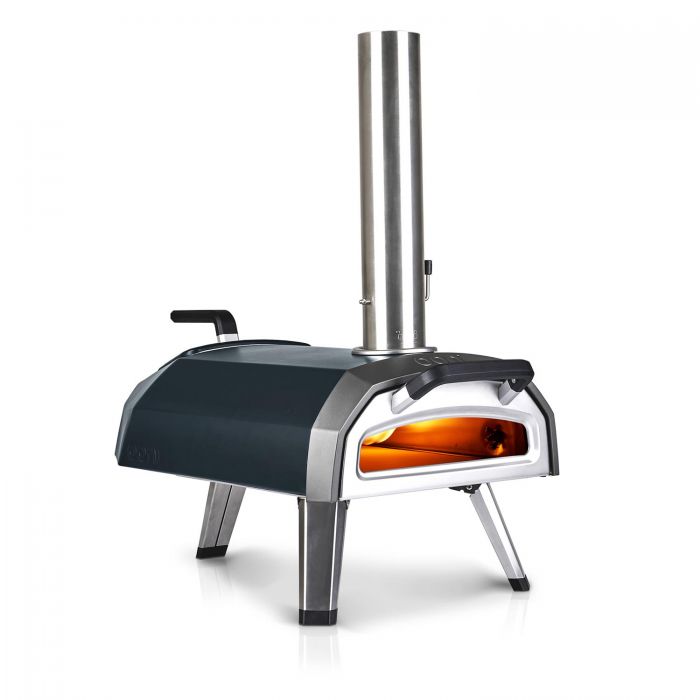 Courtesy of Sur La Table
Don't let its compact design fool you – this powerful little oven allows home cooks to bake up a perfect 12-inch Neapolitan pie quickly and easily in just 60 seconds.
The multi-purpose cooker can also be used to sear up a steak or grill up some seafood and vegetables. Its efficient, lightweight and portable design makes it easy to take with you for your next tailgating event, camping excursion, or weekend getaway.
What makes the Ooni Karu 12G Multi-Fuel Pizza Oven stand out is its unique design reaching temperatures up to 950 degrees Fahrenheit, allowing optimized airflow to prolong the rolling flame. One of the main reasons pizzas taste so much better from your local pizzeria is because home ovens can't get quite as hot as a charcoal or wood-fired oven. The high heat temperatures found in professional kitchens result in pies being cooked evenly without any hot spots.
If you are looking to create a professional-grade pizza right at home, this portable oven is for you. The tabletop unit measures 30"L x 16.7"W x 30"H, and setup is very easy with virtually no assembly necessary. A pizza stone comes with the oven, so all you have to do is place it in the oven, preheat it, and get started. Be sure to turn down the heat when the oven has reached its preheat temperature to be sure the pizza crust doesn't burn.
Courtesy of Sur La Table
Ooni sells pizza peels separately to make the cooking process even easier. We recommend the perforated peel that allows you to turn the pizza in the oven and slide it out easily without sticking. (It's important to note the oven is hotter in the back, so you need to rotate the pizza while it is cooking to prevent it from burning). The open slats on the peel also allow excess flour to fall easily from the underside of the pizza when retrieving the cooked pie.
There is a borosilicate glass window that allows you to keep a close eye on cooking temperatures so you don't have to keep opening the door letting the heat escape. The hinged door is easy to open and close, also providing improved heat retention. There is even a built-in thermometer calibrated to the center of the oven for more precise accuracy to let you know when the oven has reached its optimum temperature while heating up.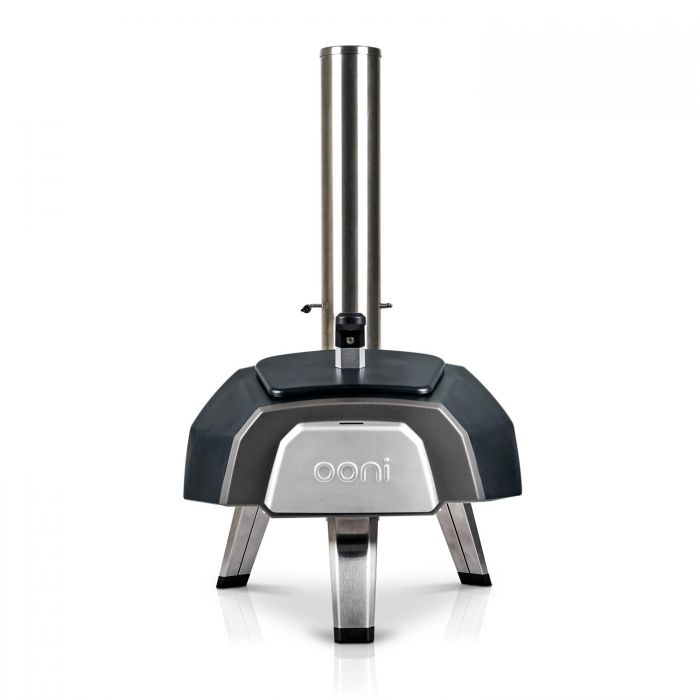 Courtesy of Sur La Table
In addition to its fast-track cooking process, the oven also cooks smarter using less fuel and offering more heat retention than its predecessor model.
If you're looking to perfect the art of pizza making and take pizza nights at home to a new level, this oven will certainly not disappoint. 
For more information on the Ooni Karu 12G Multi-Fuel Pizza Oven, be sure to check out Sur La Table.