ST Engineering iDirect will provide next-gen ground infrastructure for Kacific's expanding satellite internet services in the renewed partnership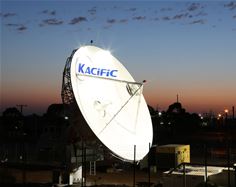 Teleport at Broken Hill, Australia
Singapore and Herndon, Va., February 14, 2023 – Kacific Broadband Satellites Group (Kacific) and ST Engineering iDirect have reaffirmed their long-term technology partnership through deep cooperation on the ground systems infrastructure for Kacific's fleet of satellites. ST Engineering iDirect, whose Dialog hub platform was instrumental to Kacific1's highly successful program, will provide a comprehensive next-generation ground infrastructure including systems integration, as part of this strategic partnership.
Riding on the success of Kacific1 which has provided essential satellite internet access to both people and governments across Southeast Asia and the Pacific, Singapore-based broadband satellite operator Kacific is now working to expand its capabilities and coverage, adding capacity manyfold with services throughout the region. As a first step, the company's next-generation satellite aims to address the soaring demand for satellite connectivity in its existing Southeast Asian markets, and extend its reach further into Southeast Asia, Central and Western Asia, and Eastern Africa. The International Data Corporation (IDC) suggests that satellite bandwidth sold across the Asia-Pacific would reach 335.6 Gbps by 2026, with an estimated 1 billion unconnected people in Kacific's areas of interest, representing a total addressable market of US$8 billion.
The upcoming Kacific next-generation satellites are planned to be reconfigurable, with flexible bandwidth allocation and high spectral efficiency. ST Engineering iDirect will match the space segment with a new generation of fully scalable, distributed ground systems that leverage standards-based, automated resource and service orchestration to enable dynamic allocation of satellite resources. Its next-generation ground system will enable extremely flexible services that align with new applications and changing customer demands, and facilitate the delivery of ultra-high-throughput services that can meet the demands of the most challenging applications, from community access to business networks.
Utilizing ST Engineering iDirect's cutting-edge technology, Kacific will take advantage of the latest advancements in virtualization and cloudification for unprecedented scale and ease of operations. With a fully digitalized ground network, the Kacific satellites will accelerate new services and capabilities to market and meet the growing demand across the region.
These new innovations, combined with ST Engineering iDirect's next-generation Network Management System (NMS), will allow Kacific to streamline the management and operations of a complex large-scale network, optimizing costs, performance, and quality of the service delivery to ensure exceptional customer experience.
"Through Kacific1, we have successfully broken ground to democratize satellite broadband in the Asia-Pacific region," says Christian Patouraux, Kacific CEO. "New generation software-defined-satellite technologies, supported by a comprehensive ST Engineering iDirect-run ground system, set the stage for successful new broadband satellite programs, meeting unabated demand in our existing markets and opening up new opportunities."
"We are proud to extend our technology partnership with Kacific and enable them to deliver the next generation of broadband satellite connectivity that will continue to empower communities across the Asia-Pacific region," said John Arnold, Regional Vice President, ST Engineering iDirect. "We are looking forward to this next chapter in Kacific's journey, and evolving with their technological requirements to provide the highly efficient, agile and cost-effective connectivity that their customers need."
***********
About Kacific
Founded in 2013, Kacific Broadband Satellites Group is a next-generation satellite operator providing access to affordable, reliable, high-speed broadband services across Asia and the Pacific. Kacific uses advanced Ka-band space and ground communications technologies to provide innovative services to governments, businesses, and communities. Today Kacific connects over 2,000 educational and healthcare facilities. Its services foster greater internet usage, fuel economic growth, and improve the delivery of critical services.
Its first satellite, Kacific1, connects underserved areas in 25 countries in Asia Pacific, home to over 600 million people. Its second satellite, Kacific2, is in development and will address Tbps in unmet demand and 1 billion people, extending Kacific's coverage across nine new markets in South, Central and West Asia.
The award-winning company is headquartered in Singapore and employs over 70 staff globally. For more information visit www.kacific.com or follow on Facebook, LinkedIn, Twitter or YouTube.
About ST Engineering iDirect
ST Engineering iDirect is a global leader in satellite communications (satcom) providing technology and solutions that enable its customers to expand their business, differentiate their services and optimize their satcom networks. Their product portfolio represents the highest standards in performance, efficiency, and reliability, making it possible for their customers to deliver the best satcom connectivity experience anywhere in the world. ST Engineering iDirect is the world's largest TDMA enterprise VSAT manufacturer and is the leader in key industries including broadcast, mobility, and military/government. In 2007, iDirect Government was formed to better serve the U.S. government and defence communities.
Media contacts:
Beatrice Mok
Kacific Broadband Satellites Ltd.
[email protected]
Allan Botica
Botica Butler Raudon Partners
[email protected]
+64 21 400 500
Julie Bettinger
Vice President, Corporate Marketing
ST Engineering iDirect
Phone: (1) 703 648 8155
Email: [email protected]
Rula Malky
Senior Manager, Corporate Communications
ST Engineering North America
Phone: (1) 571 771 0176
Email: [email protected]