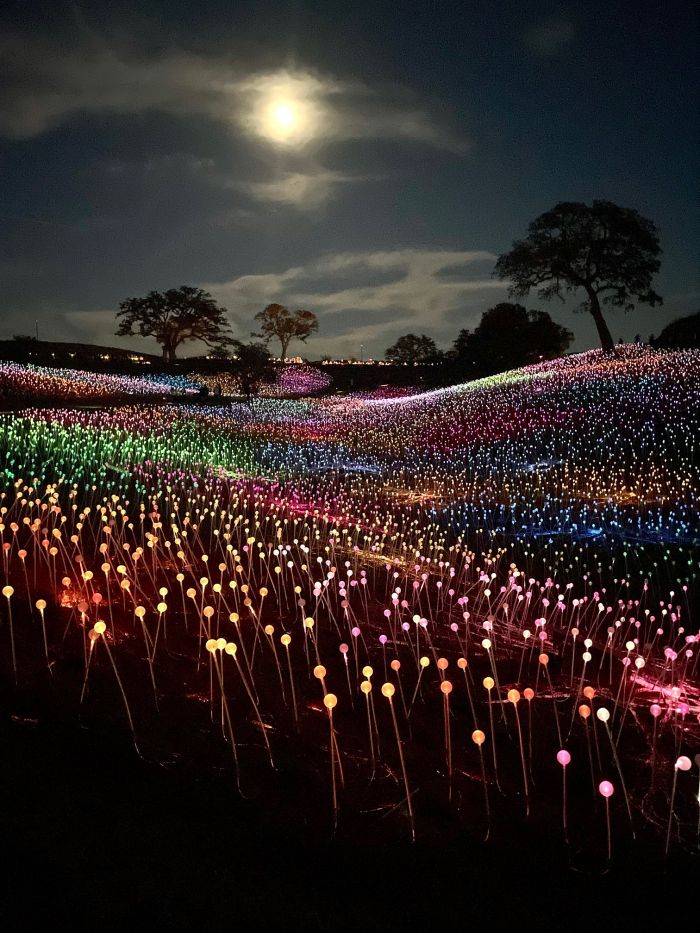 Light at Sensorio – Photo by Jill Weinlein
One of the most immersive evenings for visitors staying overnight in Paso Robles is Light at Sensorio by acclaimed artist Bruce Munro.
This is Munro's largest artwork in the world, lit by fiber optics, the hills are gen­tly illu­mi­nat­ed into sub­tle blooms throughout the undu­lat­ing land­scape. Visitors can walk along pathways for a little over one mile to get up close to this permanent outdoor exhibit.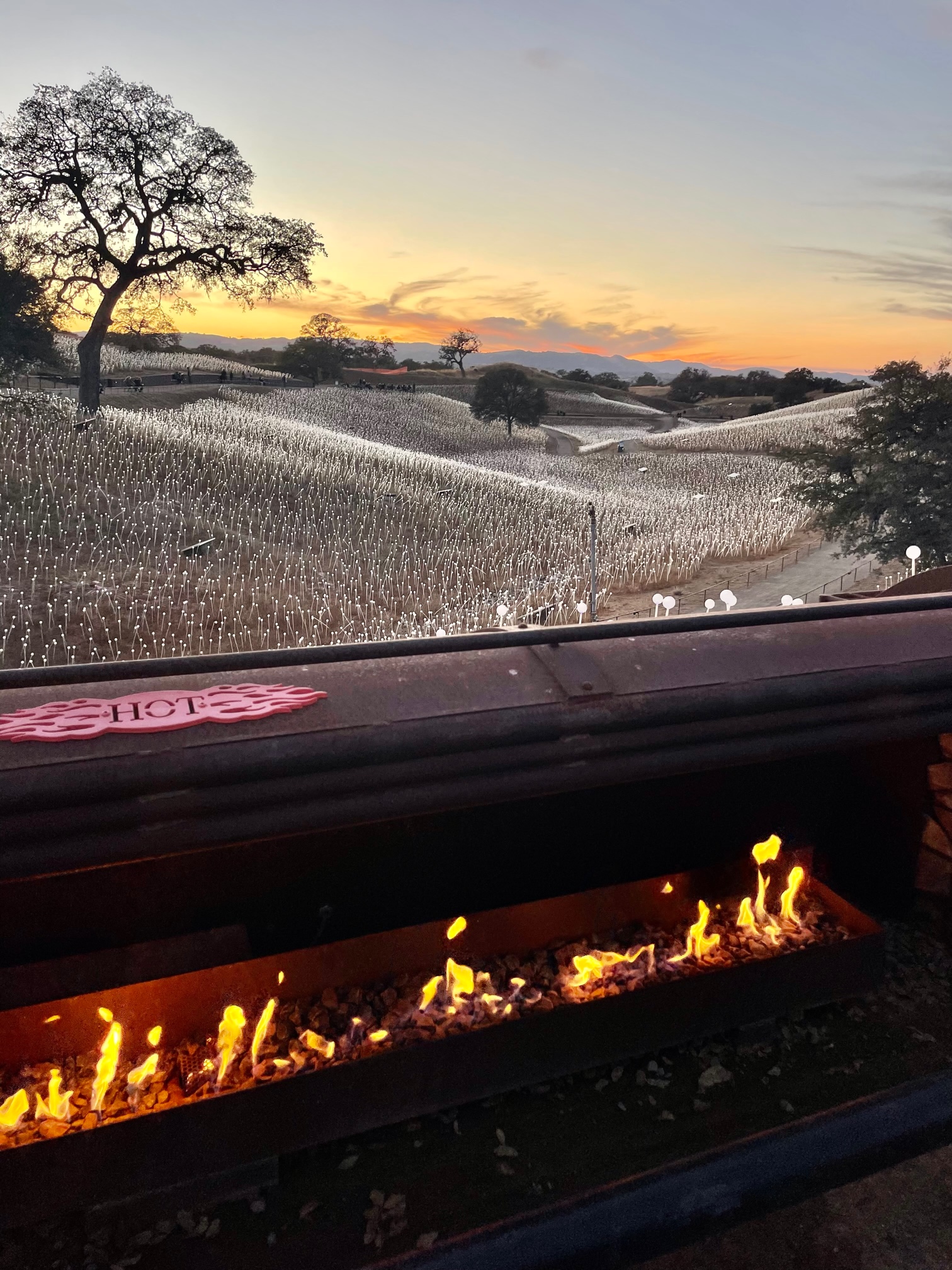 Sunset at Sensorio – Photo Jill Weinlein
Arrive at sunset for some spectacular views of Paso Robles rolling hills dotted with ancient oak trees. At dusk, there are more than 100,000 stemmed spheres that begin to illuminate in different colors.
Senses are awakened throughout the evening for general admission ticket holders. Live nightly music welcomes guests at the entrance near food and beverage stands featuring snacks, local beers, wines and distilled spirits for themed cocktails.
The ultimate ticket at this venue is a reserved Terrace Experience. Sit at a flickering fire table on the elevated terrace to take in the views of this spectacular exhibit. A silver Airstream is a bar serving ticket holders one complimentary glass of house red or white wine, beer of the evening or non alcoholic beverage. Cheese and charcuterie plates are also offered at this venue.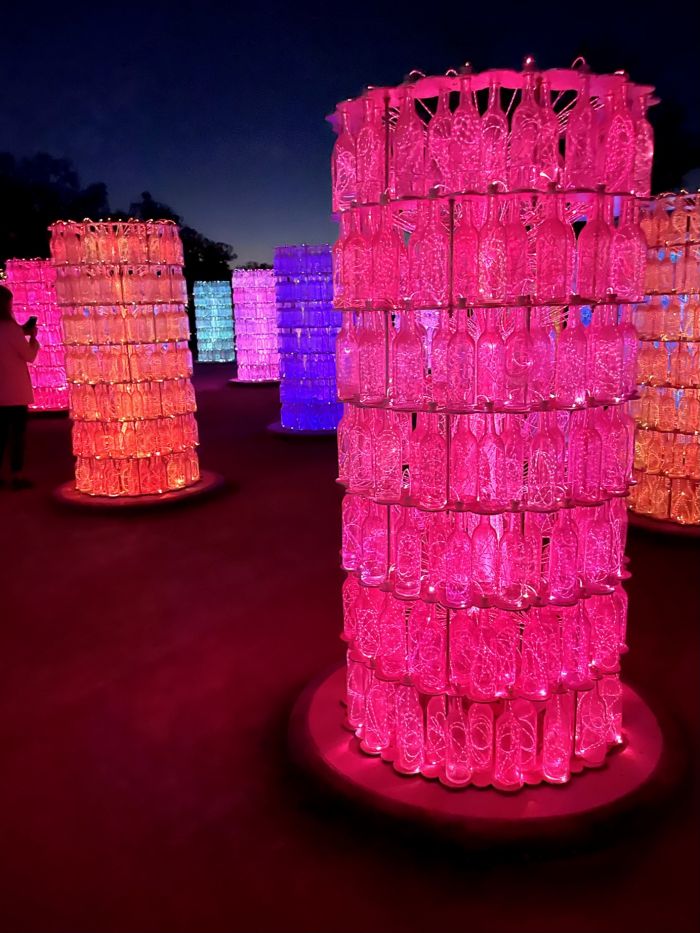 Light Towers at Sensorio – Photo Jill Weinlein
Along the pathway visitors enter the Light Tow­ers honoring Paso Rob­les' exten­sive wine coun­try. Each tower is made from wine bottles with a total of more than 17,000 wine bot­tles used in this installation. Illumi­nat­ed bottles with glow­ing optic fibers morph in col­ors to an inspir­ing musi­cal score.
Pow­ered by solar, these stun­ning exhi­bi­ts engage visitors with the land­scape and envi­ron­ment through an ethe­re­al light based and sculp­tur­al expe­ri­ence.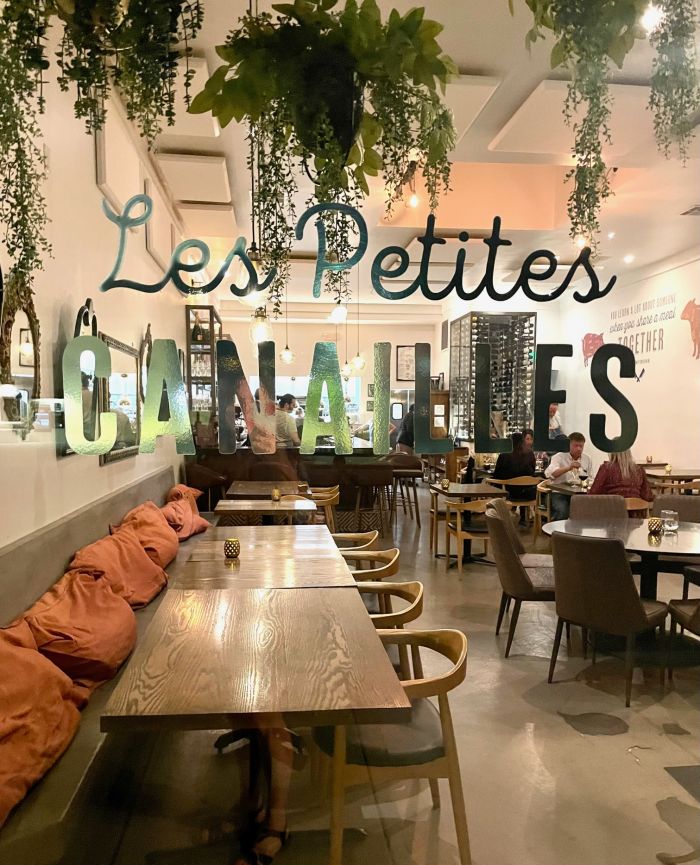 Les Petites Canailles – Photo Jill Weinlein
After a few hours at Sensorio, drive into the center of Paso Robles for dinner at Les Petite Canailles. This sophisticated and modern restaurant was recognized in the 2023 Michelin Guide for its extraordinary culinary experience.
One of the best ways to experience the ultimate dinner inside this French farm-to-table Bistro is 'Trust Us'. Nightly Chef Julien Asseo and his team prepare an inspirational five-course tasting menu. The entire table must order this special dinner for $98 per person. Wine pairings are an additional $80. The restaurant's wine list has earned a Wine Spectator Award of Excellence for each of the two years the restaurant has been open.
The focus of the wines are California and French. There is a special selection of Paso Robles L'Aventure Winery wines made by winemaker Stephan Assoe, Julien's father.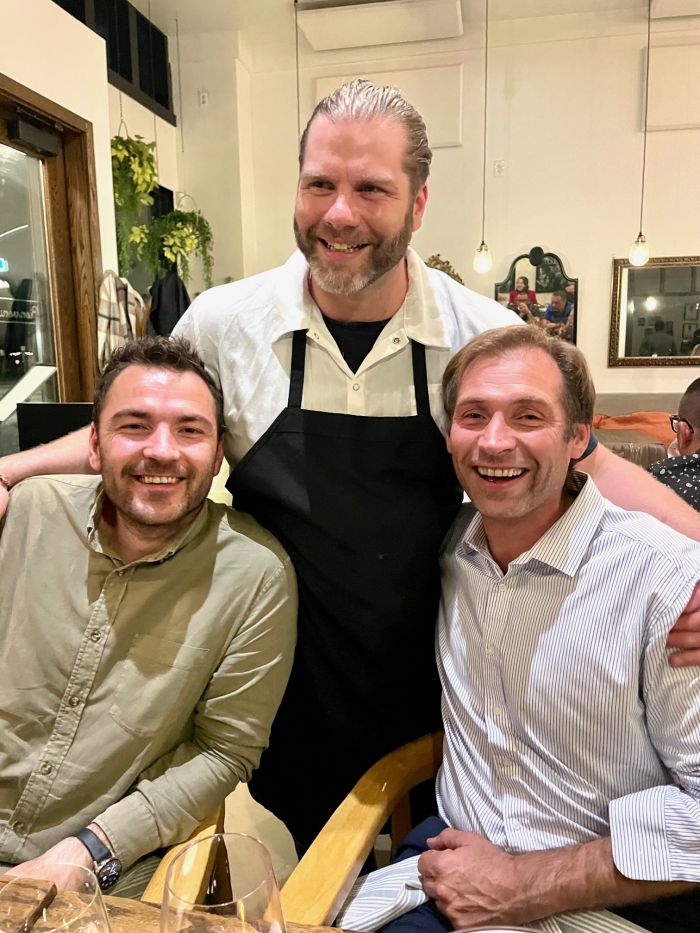 Arnaud Fabre, Julien Asseo and Guillaume Fabre – Photo Jill Weinlein
Chef Julien was raised in a wine family in a small town in France. His father Stephan moved the family to Paso Robles when Chef Julien was 10 years old. He soon became one of the first winemakers in region, eventually opening L'Aventure winery.
Chef Julien moved back to France at the age of 16 to attend the Lycee Hotelier de Gascogne near Bordeaux. After graduation, he worked in the kitchen at La Fontaine de Mars, before coming back to California.
While working as a pastry chef in Los Angeles, he met his wife Courtney, and then moved to Las Vegas to work at Joel Robuchon, and later as Executive Chef at Restaurant Guy Savoy at Caesars Palace.
Dreaming of owning their own restaurant one day, this dynamic couple moved back to Paso Robles to open Les Petites Canailles. In English, the name of the restaurant translates to 'The Little Rascals' an homage to their three children.
Winemakers Arnaud and Guilliaume Fabre of the boutique Benom Wines & Clos Solène enjoy pouring wines at Les Petites Canailles, because it's a family affair. Arnaud is Chef Julien's brother-in-law. Julien's father Stephan is Arnaud's father-in-law.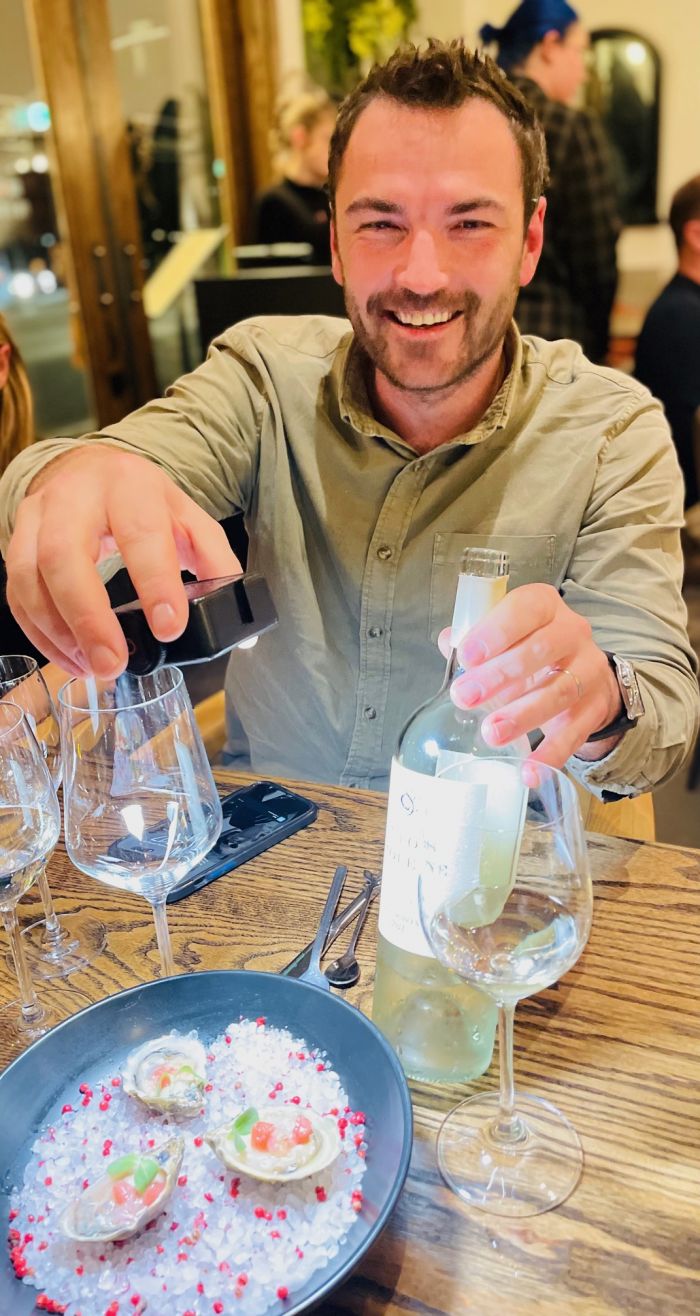 Arnaud Fabre – Photo by Jill Weinlein
When Arnaud traveled to the United States to visit his brother working at L'Aventure, he met Julien's sister Chloe Asseo and fell in love. Working with Guillaume in wine production, these two brothers created the Benom label together in 2015, and by 2017, Benom opened its doors.
Charismatic Guillaume's talent in the vineyard is shown in his calloused hands, while Arnaud's movie star looks and soft smooth hands show how he is more the General Manager and Sales Manager of the winery.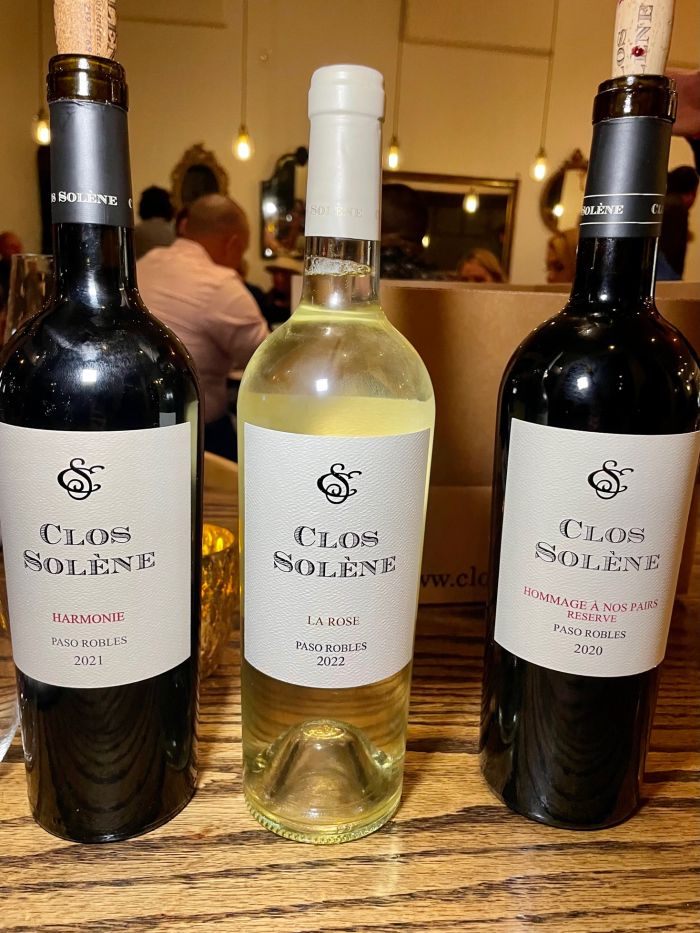 Clos Solene Wines – Photo Jill Weinlein
Clos Solene wines go well with some of Chef Julien's Michelin worthy dishes. The wine gets its name as a token of love for Guillaume's French wife named Solene.
A menu favorite is the tender "Terrine de Poireaux" or leek terrine. Chef Julien slow cooks leeks and wraps them in nori seaweed. They are topped with trout roe, toasted hazelnut and yarrow leaves. It's finished table side with a vinaigrette of house red wine vinegar, honey, soy sauce, and truffle jus. He uses L'Aventure Wine Evoo and chive oil to complete the dish.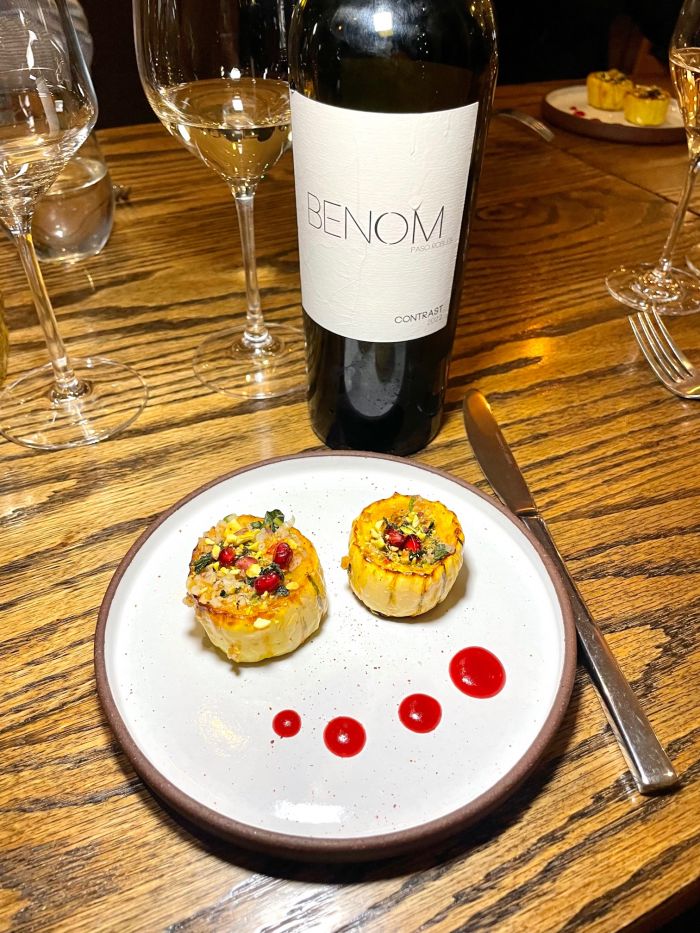 Benom Wine – Photo by Jill Weinlein
Another wine pairing favorite is Benom Contrast 2022. This white wine is made with 82% Chardonnay and 18% Sauvignon Blanc. Crafted in a Chablis manner, the acidity and brightness from the Chardonnay and tropical notes from the Sauvignon Blanc, make this an ideal pairing. There is a pleasing minerality with each sip.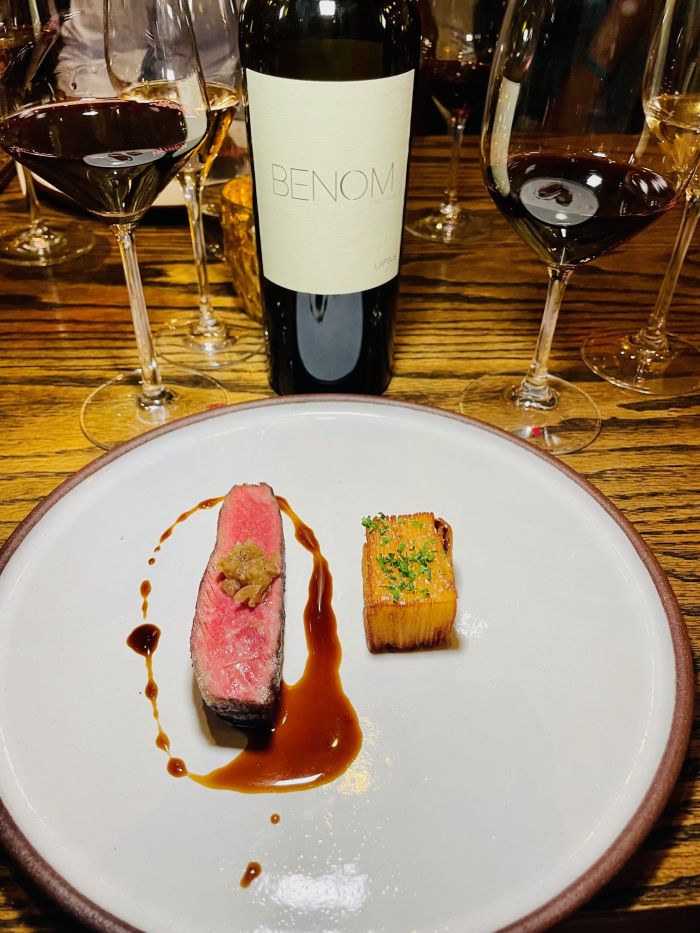 Photo by Jill Weinlein
Wines to enjoy with Wagyu beef include Clos Solene Hommage A Nos Pairs. This 2020 Paso Robles wine is made with 96% Syrah, 2% Grenache and 2% Viognier. Guillaume said on the label, 'The wine is a homage to those who have taught me, inspired me, and believed in me.' This velvety elegant wine is a blend of fruit on the west side of Paso Robles where the soil is siliceous and calcareous with hardly any top soil. 
Composed of the best Syrah grapes from their estate in the Willow Creek District AVA, plus Lara's Vineyard, Niner Estate, G2 and Padewreski. It's fermented and aged in mostly new French oak and some used oak, producing a ripe stone fruit flavor with beautiful tannins.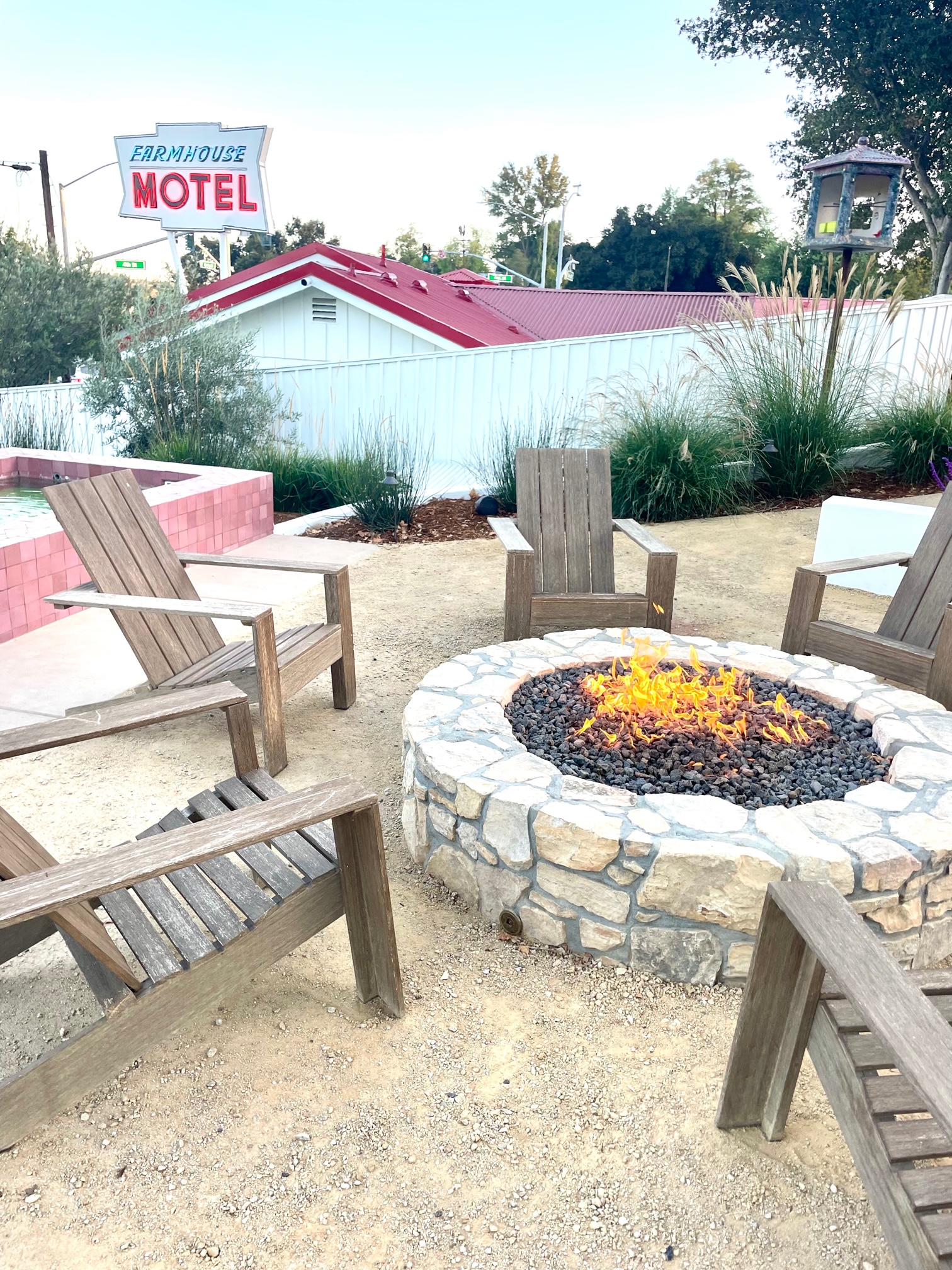 Farmhouse Paso Robles – Photo Jill Weinlein
After dinner stay at the boutique Farmhouse Motel near the center of Paso Robles. There are 26 charming country design cottages with front porches for guests to sit and enjoy a cup of coffee in the morning.  
Nomada Hotel Group refreshed this 1947 motel into a hip and modern Paso Robles destination. Guests receive a complimentary breakfast each morning in the lobby near the living room lounge. Fire-pits are lit at night for a before dinner glass of wine or s'mores after dinner.
The property is dog-friendly, and is an ideal home base while exploring an ultimate trip to Paso Robles.